Men's Basketball: Dulay detonates for 29 points as Cascades defeat Wesmen in Game 2
An outstanding all-around performance from Manny Dulay and some clutch plays late in the fourth quarter allowed the University of the Fraser Valley men's basketball team to extend its season, as they defeated the Winnipeg Wesmen 78-71 in Game 2 of their best-of-three first-round playoff series on Friday.
Playing at the University of Winnipeg's Duckworth Centre in a rare 3 p.m. start, the Cascades bounced back from a devastating 82-76 loss in Thursday's Game 1 which saw them surrender a double-digit lead in the fourth quarter as the Wesmen ended the game on an 18-0 run.
UFV fifth-year point guard Dulay, who led the entire nation in three-pointers during the regular season, was up to his old tricks in the rematch, going 11-for-16 from the field including 7-for-7 from beyond the arc for a game-high 29 points. His playmaking wasn't just limited to shooting, though – he also registered six rebounds, five assists and three steals.
Forward Mark Johnson also came up big for the Cascades with 14 points and seven boards, Nav Bains notched 10 points, and Vijay Dhillon and Denver Sparks-Guest chipped in with eight apiece.
Sean Tarver paced Winnipeg with 22 points off the bench, and Ryan Oirbans (16 points, 10 rebounds, four assists) and Denzel Lynch-Blair (14 points) also scored in double figures.
The two teams meet Saturday afternoon (3 p.m. Central / 1 p.m. Pacific, webcast at ufv.canadawest.tv) for the right to move on to face the Saskatchewan Huskies in the Canada West quarter-finals.
"The difference for us was really learning from yesterday – how to be in a road environment and have a lead, but be able to handle when the home team comes at you with some momentum," Cascades head coach Adam Friesen summarized.
The first half on Friday was closely contested, with the Cascades gaining a bit of separation late in the second quarter to lead 39-34 at the break. Dulay was on fire from downtown, hitting six treys in the first half.
UFV opened the third quarter on an 11-2 run capped by – what else? – a Dulay three to seize control of the game, and they maintained the double-digit lead into the fourth. The Wesmen trimmed the deficit to five points with just under four minutes left in regulation, which could have flustered the Cascades after Thursday's bitter ending. But Dhillon answered with a huge triple, and Dulay scored on a tough drive to the bucket on the next possession to stretch the margin back to 77-67 with three minutes left.
"He played like a senior whose career was on the line," Friesen said of Dulay. "His energy level was incredible, his focus level was awesome, and he willed some shots to go in for us. He really led the charge."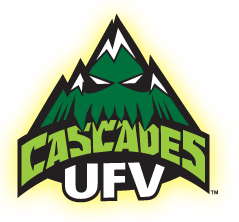 Women's Basketball: Ghali's offence, strong team defence spark Dinos past Cascades in Game 1
The Calgary Dinos locked it down on defence in Game 1 of their best-of-three first-round Canada West women's basketball playoff series against the UFV Cascades, prevailing 67-48 at the Envision Athletic Centre on Friday evening.
The No. 9-seeded Dinos limited the No. 8 Cascades to 27.1 per cent shooting from the field – including 14.8 per cent in the first half – and got a sparkling 20-point, 16-rebound performance from fourth-year guard Brianna Ghali en route to victory.
The Cascades will fight to extend their season on Saturday – Game 2 tips off at 5 p.m. at the EAC (webcast at ufv.canadawest.tv). Game 3, if necessary, is set for 5 p.m. Sunday.
"Calgary understands how to play in the playoffs, and we don't," UFV head coach Al Tuchscherer analyzed afterward. "They came out tough mentally and physically, willing to sacrifice and do whatever it took to win the game tonight. They crashed the boards hard, they beat us to every loose ball, and I think Damian (Jennings, Dinos head coach) can be really proud of his team and the effort they had tonight.
"We need our veterans who have been in playoffs and who have been in battle to actually play like that's happened before. We can't have our veteran players being our least effective defensive players, not taking care of the details. They need to come ready to play, and they need to come ready to lead us."
Both teams struggled to get on track offensively in the early going – the score was tied 8-8 at the end of the first quarter.
Ghali and the Dinos found some traction midway through the second quarter – Calgary's top scorer during the regular season racked up 13 points in the frame, highlighted by a trio of three-pointers. The Cascades remained mired in their offensive funk, and were out-scored 25-10 in the quarter en route to a 33-18 halftime deficit.
UFV clawed their way back to within 12 points early in the third, as Kayli Sartori, Taylor Claggett and Shayna Litman all converted old-fashioned three-point plays in quick succession. But the hosts ultimately couldn't stop the Dinos, who pushed the lead back up to 50-33 at the end of the third and cruised from there.
Calgary counted 24 offensive boards among their 58-43 overall rebounding advantage, with Ghali leading the way of the offensive glass by collecting six such caroms. Michal Assaf chipped in with 16 points, and Erin McIntosh scored 11.
Sartori paced the Cascades with 19 points, Litman scored 13, and Claggett had a double-double with 10 points and 10 boards.
The Cascades' shooting numbers across the board were subpar: 27.1 per cent (16-for-59) from the field, 5.0 per cent (1-for-20) from beyond the arc, and 62.5 per cent (15-for-24) from the free throw line.
"We actually started (the season) with the kind of D you saw tonight, but to be honest, we haven't seen it for a while," Dinos bench boss Jennings said. "Part of that has been the dysfunction of having seven injuries from the beginning, three of which were starters and three of which have become season-ending. Without placing excuses, we've actually gone on a little bit of a rite of passage through that way.
"It's pleasing for it (the defence) to come out tonight, not so much for Fraser Valley but for us. That's really been the story."
Jennings termed Ghali's performance "splendid."
"She's wanted it, and we've needed it," he said. "There's been a couple of performances recently where she's not been the level of player she can be, and tonight she was exactly what she is.
"We were a little bit stuck (early in the game) and Fraser Valley was doing a good job defending us. Even though we were getting some open shots, they weren't dropping, particularly the threes. We couldn't buy a bucket, and she kind of opened it up a little bit for us in the second."