Ottawa/Victoria – In an action that will raise eyebrows, the Supreme Court of Canada upheld a British Columbia law that requires you to register before sponsoring political advertising during a provincial election, even when little or no money is spent.
However in a 7-0 ruling , the SCOC Supreme Court Of Canada made it clear that the law does not apply to someone who wears a T-shirt with a political slogan or slaps a bumper sticker on their car.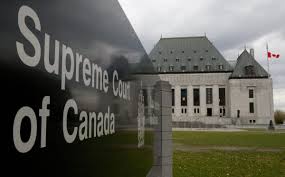 BC's Election Act requires sponsors of election advertising during a campaign period to register their name, telephone number and address with B.C.'s chief electoral officer. Fines could be as much as $10,000.
Failure to register could result in a year behind bars and a fine.
The B.C. Freedom of Information and Privacy Association challenged the motion, pointing to a potential violation of the charter right to freedom of expression.
This process started in 2014, when a trial judge found the section of the law in question infringed freedom of expression.
The following year the B.C. Court of Appeal dismissed the non-profit association's challenge of that ruling, prompting an appeal to the Supreme Court.
The BC Civil Liberties Association released their statement:
The Supreme Court of Canada has clarified today that the freedom of expression rights of individuals engaged in political expression during an election campaign are protected by the law.
In a unanimous decision in the case of BC Freedom of Information and Privacy Association v. Attorney General of British Columbia, the Court ruled that the BC Election Act's prohibition on unregistered "sponsorship" of election advertising does not capture individuals who engage in expressive activities like displaying handmade signs in their windows, placing bumper stickers on their cars, or wearing T-shirts with political messages on them. The BCCLA intervened in the case to argue that the registration requirement silences the voices of people already marginalized within the political arena: those with little money, little political power, and views that challenge the status quo.
BCCLA Staff Lawyer Laura Track: "A requirement to register your political views with the government before speaking out on issues that matter to you during an election campaign stifles spontaneous expression and may prevent some people from speaking out altogether, particularly those seeking to advance contentious, unpopular or under-represented views. The Court today held that BC's election law does not apply to individuals engaged in self-expression. Today's decision is an affirmation of freedom of speech for individuals engaged in political expression and debate. We remain concerned that small community groups may continue to find their expression and participation in elections is chilled by the requirement to register without any minimum threshold for spending."
The Court ruled that the lack of any minimum threshold for spending by small community groups before registration is required is a justified infringement of freedom of expression. The BCCLA remains concerned that the registration requirement could pose a real barrier to the expression of small community groups or organizations who wish to make their views known during elections.