Abbotsford –  – Becoming a family of 14 is unimaginable to most let alone living with that size a family in an RV for 80 percent of the year. But the Kelloggs, who were a main component of this year's Snowbird RV at Tradex, say it's the best family decision they ever made.
"Before 2012, when we decided to put our home on wheels and road-school our kids, we never even traveled as a family, really, until we went out in the RV," says mom, coach and teacher Susie Kellogg.
Their 36-foot Georgie Boy Cruise Air Master they purchased in 2012 has served them well, explains Kellogg, who raves about its reliable diesel engine.
"Sure we've had to do some cosmetic upgrades over the years, but the important details like the engine, which is diesel, just lasts forever, has never let us down."
Kellogg maintains her children, who range in age from three to 22, are very close and enjoy being together all the time even at the end of the day when bedtime is the last item on the agenda.
"We're outside all day. The kids, big and small, are exhausted by the time bedtime rolls around," she says.
As for family disputes, Kellogg openly admits her clan is not immune. To ensure everyone can resolve their issues, family members have learned how to discuss disagreements and negotiate solutions.
"There's no running away (in an RV). There's no hiding or slamming a bedroom door," says Kellogg. As a result, "they've learned how to deal with it – how to settle things," she adds.
Despite their close proximity, Kellogg says she would not trade the RV lifestyle for a more conventional one.
"From the beginning of the day to the end of the day, we're together all the time and to me, that's what life is all about," says the happy-go-lucky North American-bound RV'er.
Susie's husband Dan is an independent software engineer and life coach who works from the RV to finance their journey while Susie writes blogs for various outlets including their own website, kelloggshow.com. She works alongside Dan as a life coach as well as teaches her children lessons in reading, writing and math. The rest of the group's learning comes from their travel journey and the places they visit, explains Kellogg.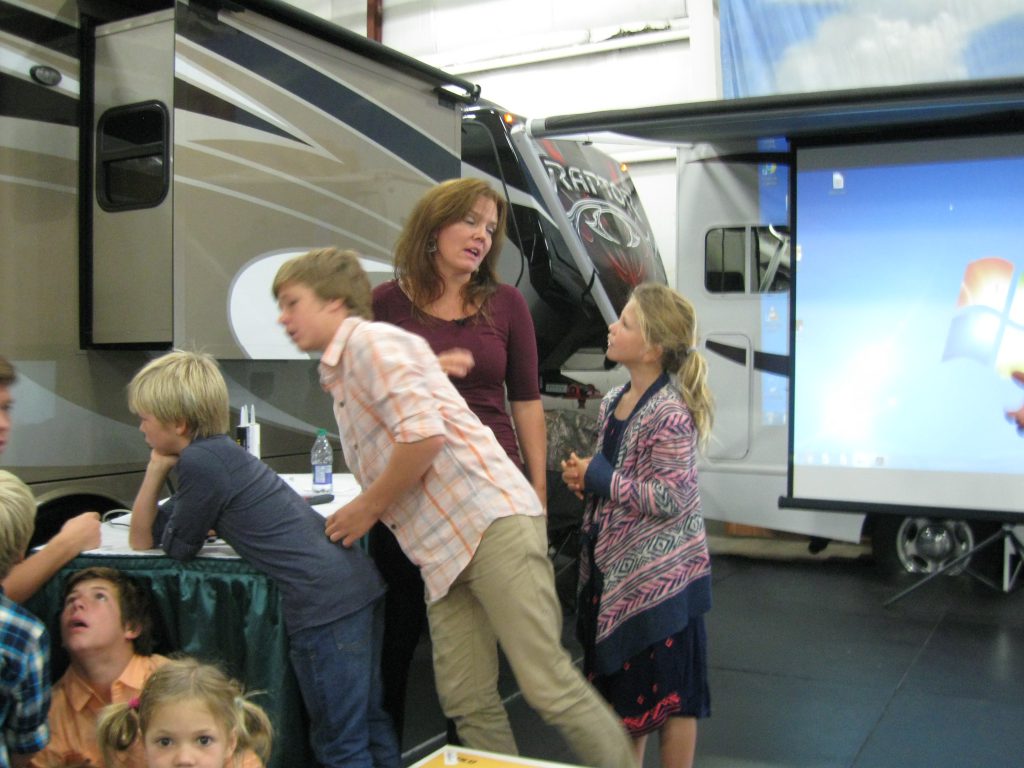 "Our kids are always stepping outside their comfort zone, and they're also learning that life is not to be lived in a cubicle," said Kellogg.
Dan and Sue told FVN's Don Lehn that they value the time today as a life learning experience. Yes they have their squabbles but being in close quarters, they HAVE to learn to get alone through conflict resolution.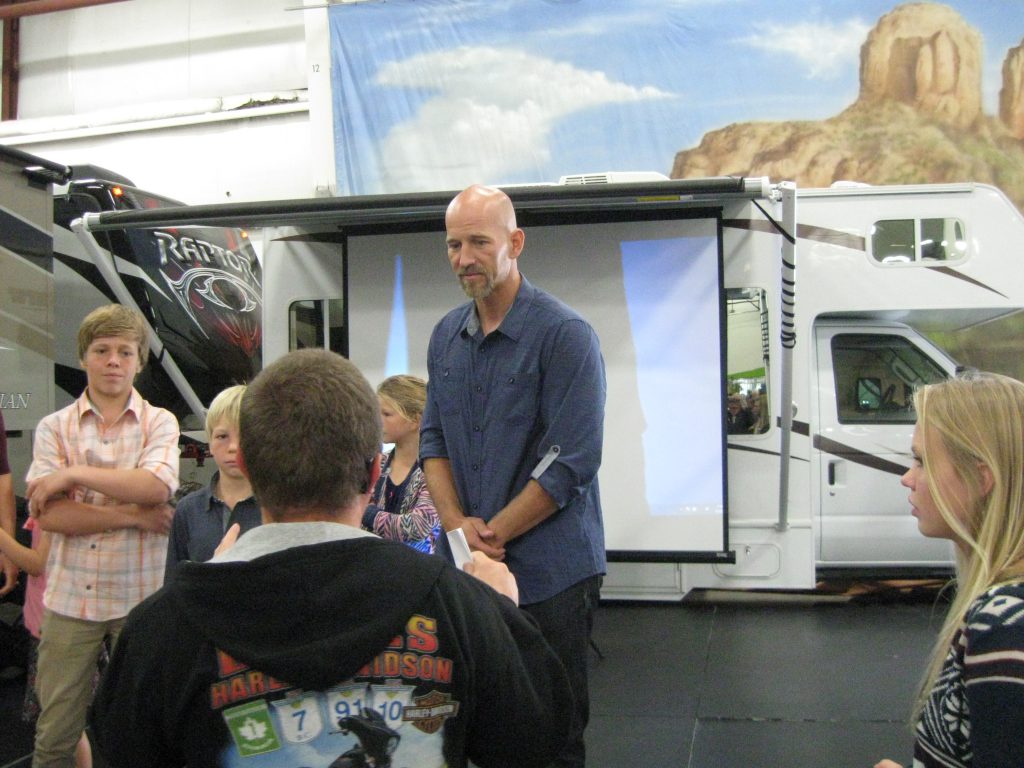 They do have sponsors to help pay the bills as well as their on line show which can be found here.
They have been approached to do a reality show but Dan and Susie wanted to keep the spotlight in a controled atmosphere, and on line rather than network seemed to be the best way to go. They eldest son who is 20, is chronlcalling their travels for a book.
The kids are home schooled and no they have no problems crossing the border as this American family criss-cross  North America.
From their website: Dan works his butt off, like literally.  He is Software Engineer and Web Developer and runs his own successful company, Kellogic, LLC.  Dan has clients across the country (USA) and Canada.
We can afford to travel because he works super hard to support his family and we have been blessed that is profession is one that can be done anywhere, so long as there is WIFI!  We blog often about the gear we use, the companies we use and how we make it work, you can check out a gear blog here and our #1 Provider blog here.