Chilliwack/Victoria – Provincial Transportation Minister Todd Stone addressed the Chilliwack Rotary Club on Friday and along with MLA John Martin, dropped a pre-election transportation bombshell.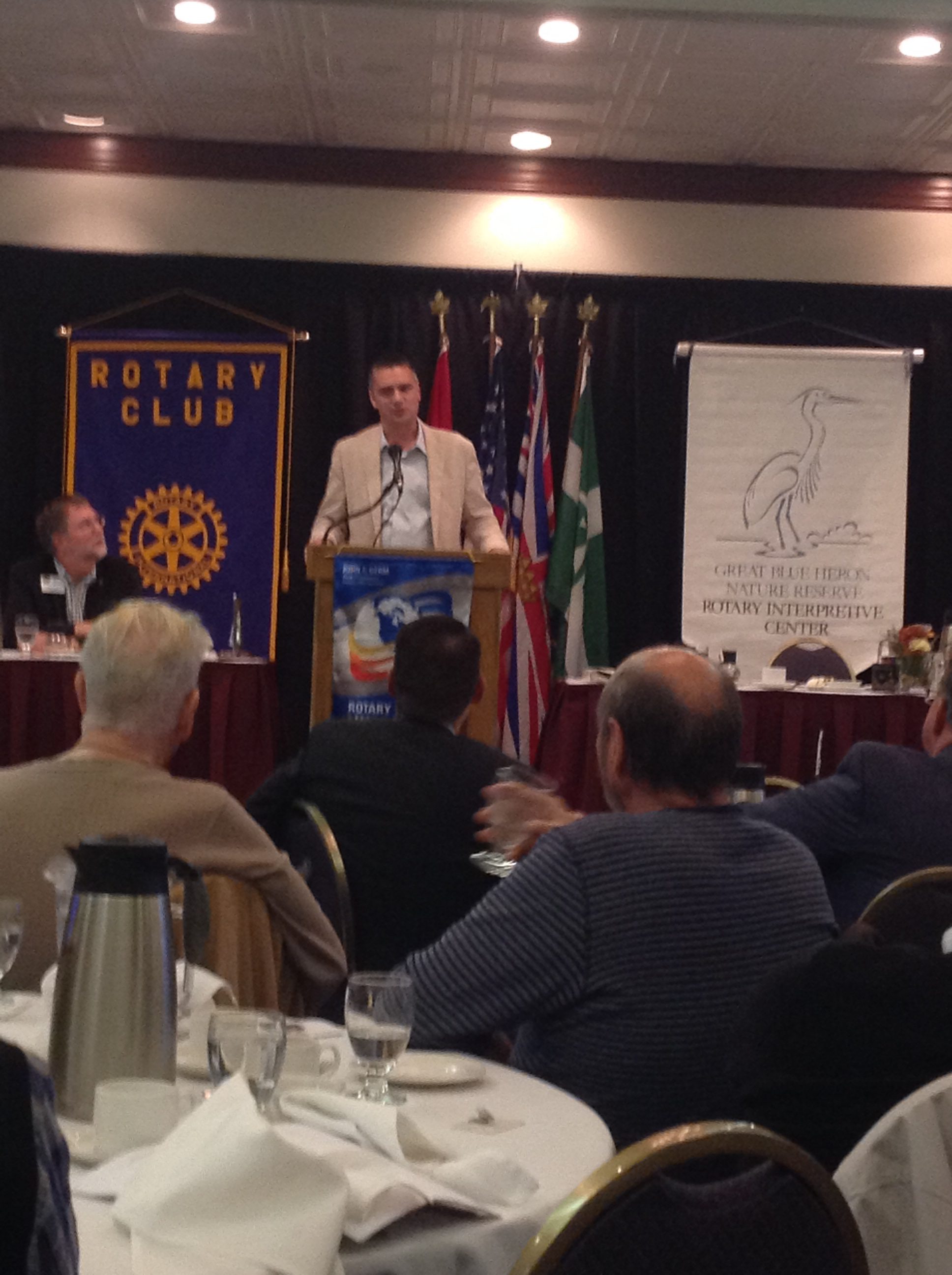 A $6.5M project, with $2M in money from Victoria for upgrades to the Highway One/Lickman Road interchange.
What did not come was money to widen Highway One to six lanes from 200th Street to Whatcom Road. Highway one will be widened to 216th Street and eventually to Mt.Lehman Road and onto YXX Abbotsford International Airport.
That announcement of $20 million in federal and provincial funding for the 4-laning project in Abbotsford was announced in August.
Widening to Whatcom, if not Annis Road would be at least $500M.
Stone acknowledged that the Province is looking at improvements to the Highway 9 connection to Agassiz and the Highway 9 Agassiz-Rosedale Bridge.
Another 800 Hours of Handy Dart local service will added and expect bus improvement in 2017, 2018 and 2019.
The Province is testing new road paint for lines. The Federal Government has now banned oil based paint for road lines. Testing is concentrating of weather proof paint that can be used on the roads. Rumble strips don't show up that well in the Northern climates. Installation is expensive vis a vis painting.
This was MLA John Martin's statement:
Safety and efficiency improvements are being planned for the Lickman Road and Highway 1 interchange in Chilliwack, Transportation and Infrastructure Minister Todd Stone announced today while speaking to the Chilliwack Rotary Club.
"Residents have been asking for upgrades to this intersection for a long time and I look forward to a great partnership with the City of Chilliwack on this $6.5 million project," Stone said. "Highway safety upgrades are a key priority of B.C. on the Move, our 10-year transportation plan and the improvements planned for this interchange will address safety and mobility concerns on this important route into Chilliwack."
The project will be cost-shared between the Province and the City of Chilliwack. The Province is contributing up to $2 million for improvements to provincially-owned infrastructure including the highway ramps and the overpass and the city is providing the remaining project costs.
"Lickman Road is a vital route to access Chilliwack from the Trans-Canada Highway," said Chilliwack MLA John Martin. "This improvement project is welcome news to the community and will greatly improve safety and traffic flow at this busy access point between our community and the highway."
The work will focus on removing left-turn movements at the eastbound ramp intersection and redirecting left-turns to the south through a new, two-lane roundabout at Yale Road and Luckakuck Way. Lickman Road will also be widened to four lanes between the south side interchange ramps and Yale Road and Luckakuck Way.
"The city is delighted with the Ministry of Transportation and Infrastructure's announcement of a partnership contribution of up to $2 million to the Lickman Interchange Upgrade Project," said Chilliwack Mayor Sharon Gaetz. "This interchange suffers from daily congestion delays and growing safety challenges. The planned improvements will be welcome by drivers of passenger vehicles and commercial freight vehicles alike."
B.C. on the Move is government's 10-year plan for the improvement of the province's transportation network. Over the next three years, the Ministry of Transportation and Infrastructure will invest up to $2.7 billion to improve B.C.'s transportation network.
Learn More: http://www.tranbc.ca