Agassiz – This year, the Agassiz Fall Fair celebrates the 112th Fall Fair and the 68th Corn Festival.
On Friday afternoon Sept 16 and all day Saturday Sept 17 the midway will again offer a special price for rides.
This year's theme is "The Year Of The Pumpkin".
On average, the fair attracts more than 10,000 visitors!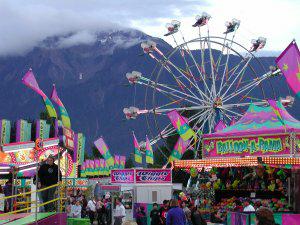 The midway has one of the best collections of rides for a fair. The Friday night entertainment is being finalized and there will be great musicians for you to enjoy.
The Agricultural Hall will be open on Friday from 4:00 to 9:00 p.m. and Saturday from 10:30 a.m. to 7:00 p.m. In the hall one can view Arts and Crafts, Painting, Needlework, Baking, Canning, Floral, Fruit, Vegetable, Pets, and Photography entries as well as Educational displays.
On Saturday several 4-H groups will be at the Fair show casing their cattle, horses, pigs, sheep, swine, dogs, goats, rabbits, sewing, photography, educational poster and educational displays.
Saturday activities will include: a Parade, Crowning of the Corn King/Queen, Stage Entertainment including musicians and dancers, a Midway, a Corn Husking Competition, a Goat Milking Contest, an Antique Tractor Pull, a BMX Bike Demonstration, Lawn Mower Races, a Farmer's Market, and a Kid's Corner.
There is always some of the traditional fair activities and something new. "Poultry in Motion" demonstration trailer will be on site.