Fraser Valley – Staged on a picturesque Sumas Prairie farm, BC Hop Fest: Celebrating Fresh Beer is a Fraser Valley experience like no other. This year's event will take place Saturday, October 1st from 1 to 6 pm and will double last year's line-up of the province's best, with 30 plus breweries participating. Eating and drinking among hops still on the bine, beer lovers visit with their favorite brew masters, kick up their heels to live music and learn everything they want to know about hops. 2015 People's Choice winner, Ravens Brewing Company in Abbotsford will be defending their title against local favorites Field House Brewing and Old Abbey Ales. Chilliwack's Old Yale Brewing Company has the distinction of being the first brewery in the Fraser Valley and will be back to Hop Fest along with Chaos & Solace Brewing Company, brand new in Chilliwack and excited to be the latest addition to Hop Fest 2016.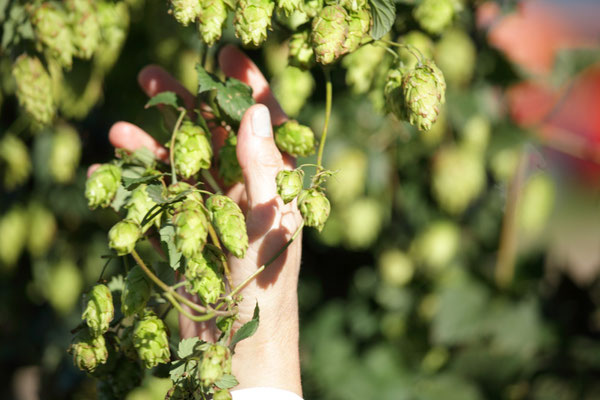 BC Hop Fest is the first beer festival to focus on wet hopped beer, an exclusive variety only available during harvest. Hops are pulled off the bine, and to fit the fresh hop designation, must be in the kettle within 24 hours. If 'hoppy' beers aren't your thing, this year's participants will also be offering one or two additional selections on tap. Executive Director at the BC Craft Brewer's Guild, Ken Beattie says, "We are glad to be part of this unique festival again and it's a great way to start BC Craft Beer Month with so many of our members in one location."
Between tours of the hop farm, the farmer's market, brewer's panel, home brewing exhibition and visits to the Chilliwack Museum display, guests are sure to learn all they want and more about hops. Since beer pairs so well with great food, mobile eateries will be on hand including Reel Mac and Cheese, Wings, Big Red's Poutine, and Poomba's Smokehouse. Lepp Farm Market will be back with the infamous "Hop Dog" and "Hoparoni" specialties they created just for Hop Fest.
Event Producer, Donna Dixson says, "We want everyone to have the chance to really connect with all that is happening in the Fraser Valley around hops and craft beer. Vine &hops is providing premier transportation from Vancouver to Abbotsford and we have a shuttle taking people from Abbotsford to the farm as well. In addition to starting off BC Craft Beer Month in Abbotsford, BC Hop Co is celebrating the second hop harvest and the opening of a world class hop processing facility. It is a testament to the demand for an event of this kind that we have doubled the number of participating breweries and are expecting twice as many attendees in just one year."
Big players such as Postmark Brewing, Red Truck Beer Company, Central City Brewers + Distillers, Steamworks and Four Winds out of Delta will join the impressive roster that includes East Vancouver's hop circuit, Powell Street Craft Brewery, Off the Rail Brewing, Bomber Brewing, and Strange Fellows Brewing Company. Driftwood Brewery's claim to fame is that their Sartori Harvest IPA was the first fresh hopped beer to be released in BC so it is fitting that they are back this year along with a true craft brewing pioneer, Phillips Brewing & Malting Co, also from Victoria. The Okanagan will be well represented by Tin Whistle Brewing Company and Bad Tattoo Brewing out of Penticton and Tree Brewing in Kelowna. Yellow Dog Brewing, Moody Ales, and The Parkside Brewery will showcase Port Moody's Murray Street. The list goes on and on, check out www.bchop.co to find the rest.
For ticket information, http://www.bchop.ca/events/hop-fest/tickets/