Victoria – After 8 months of behind the scenes lobbying and negotiations, the Province of BC has backed away from a complete ban on "special events" on farms including farm weddings. This allows breathing room for farm owners to continue to augment their farm income with an outside source (still regulated).
Gary Moran with Fantasy Farms told FVN: "Happy Days! It was great that everyone came on board to the same page and realize that agri-tourism and special events are the wave of the future. We (Fantasy Farms, Corn Maze, Reapers) will not have to worry about new buildings and the permit process that would bog down everyone in red tape. Usual liquor licenses take 60 days to process, but with an event such as a farm wedding, being organized usually one year in advance, that will not prove to be a stumbling block. I've had to re-read the release a few times over to believe it. It's a great day for BC Ag-Tourism!"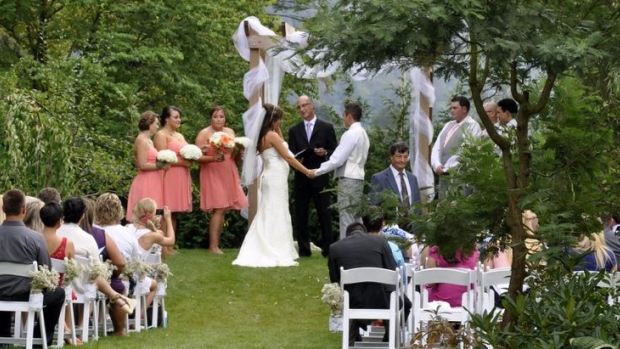 Media Release – The British Columbia government has brought clarity to permitted agri-tourism activities and has established new opportunities around events, such as weddings in the Agricultural Land Reserve (ALR), to help farmers grow their incomes and help British Columbians share the growing passion for local foods and farming.
The Ministry of Agriculture has developed a regulation that establishes that ALR land owners will not need a permit from the Agricultural Land Commission (ALC) to host specific activities like commercial weddings, concerts or non-agriculture related festivals, providing that:
The farm is classified as having farm status under the Assessment Act;
No new, permanent structures are being built;
All parking must be on the farm (no road parking) but the parking area must not be permanent nor interfere with the farm's agricultural productivity;
The number of guests at any event is 150 or less; and
The number of events is 10 or less in a calendar year.
An application to the ALC is required if any of the above conditions are not met. For example, a farm that wishes to hold a wedding with 200 guests, or hosts the 11th wedding on their farm in a calendar year will need to apply to the ALC. In addition, regardless of whether an application to the ALC is required, farmers must also continue to meet all relevant local government requirements, such as event hosting, liquor licenses, and fire code requirements.
The restrictions in the regulation do not apply to wineries, meaderies and cideries, as many are established providers of these services and already have infrastructure, licensing and procedures in place. These facilities can continue to operate as they have been without requiring an application to the ALC.
In addition, irrespective of the above criteria, no application to the ALC is required for a famer hosting weddings for family members or friends at no charge. If famers are receiving a payment for hosting the wedding of a family member or friend, an application to the ALC is required if any of the above conditions are not met.
Local governments cannot prohibit weddings from taking place on land in the ALR, but can require the farmers to apply for a permit which could specify conditions related to amplified sound, parking, fireworks or other disturbances.
The policy of not requiring permits for activities described in the ALC's Policy on Agri-tourism Activities has also been formalized into the regulation. Activities that do not require an application to the ALC include:
Farm tours and farm demonstrations
Hay, tractor and sleigh rides
Corn mazes, pumpkin patch tours and related activities
Seasonal promotional events (e.g., harvest and Christmas fairs and activities)
Special promotional events (e.g., private or public special occasion events for the promotion of farm products)
The regulation is in effect immediately. The clarity regarding agri-tourism and new opportunities related to events were established through discussions with the Union of British Columbia Municipalities, the British Columbia Agriculture Council, the Agriculture Land Commission, and the British Columbia Young Farmers Association in February 2016.
Norm Letnick, Minister of Agriculture –
"The B.C. government is committed to an Agricultural Land Reserve that works for farmers and helps them grow their businesses through farming, food production and activities like agri-tourism. These regulations offer a needed balance while allowing B.C. farmers to supplement their incomes through secondary activities that support farming and agriculture on their land."
Frank Leonard, chair, Agricultural Land Commission –
"We welcome these clear definitions as it allows the ALC to continue to preserve farm land, while ensuring property owners have the supplemental incomes needed to be financially viable."
Stan Vander Waal, chair, BC Agriculture Council –
"Agri-tourism provides necessary additional income to many farming families and it creates new connections to the farm through valuable educational experiences. Agricultural production is fundamental to agri-tourism, making the Agriculture Land Commission's work to preserve and encourage farming on agricultural land indispensable."
Al Richmond, president, Union of B.C. Municipalities –
"This regulation will provide additional clarity for local governments, the Agricultural Land Commission and ALR land owners.  Minister Letnick engaged with UBCM as this regulation was being developed and I support the proposed changes."
Learn More:
The regulation is posted here: http://www.bclaws.ca/civix/content/oic/oic_cur/295112230/?xsl=/templates/browse.xsl
ALC policy on agri-tourism activities in the ALR: http://www.alc.gov.bc.ca/assets/alc/assets/legislation-and-regulation/policies/alc_-_policy_4_-agri-tourism_activities.pdf