Coquitlam – Bread and milk home delivery was commonplace back in the 1950s but nowadays consumers just can't envision those neighborhood trucks that would lumber down residential streets and leave behind a heavenly fresh-baked aromatic trail.
Organizers of this year's third annual Ultimate Car Show are infusing that sentiment into their event with a 1950s bread truck that is now so pristine, its assessed value sits at $248,000.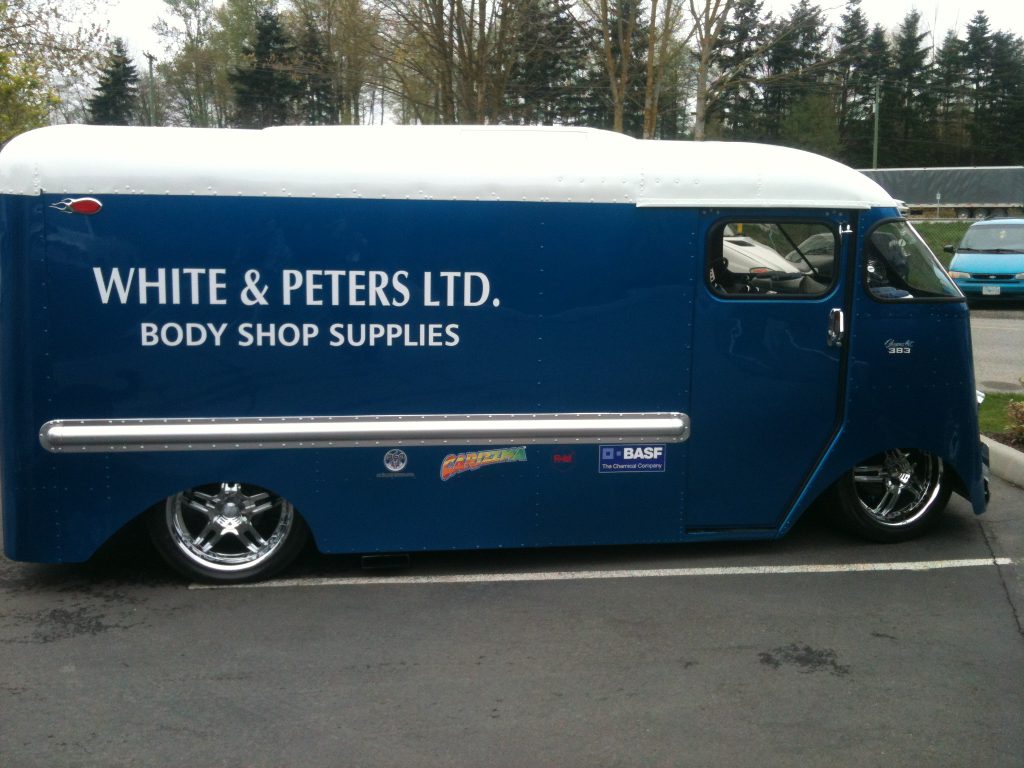 "It's a 60-year-old collectors item that is bound to capture a lot of attention at our show this year," says Rick Francoeur, show host and owner of Canada's premiere custom car company 360 Fabrication Inc. Francoeur and his team worked with prominent auto body supply and spray equipment company White and Peters Ltd., to produce a final product that retains its nostalgic appeal but also incorporates sophistication car buffs look for in collector items. "And that's important as this truck is going to be featured at this year's iconic Barrett Jackson collector car auction to be held in Las Vegas this October,"
Mort Hall, General Manager of White and Peters Ltd., wanted to auction the truck and donate all the proceeds to the Shriners as he holds the charity in high regard.
"The Shriners hospitals touch everybody in Canada and the U.S. More importantly the money will go to help better the lives of children. This truck is an incredibly unique piece and I really think it will fair well at the Hall credits 360 Fabrication President Rick Francoeur and his team for creating the ultimate look of the White and Peter's Ltd. Bread Truck. "It really was all the guys at 360 who made this vehicle look so amazing. I let them have complete control over the design and execution and they did an absolutely "Shriners Hospital for Children has been providing hope and healing to children from across the US, Mexico and Canada for more than 90 years. We are committed to providing the best care for children in our specialty areas of orthopedics, burn care, spinal cord injury, neuro-musculoskeletal conditions and cleft lip and palate, regardless of a family's ability to pay. Bringing such a historical collector's item to this prestigious auction will bring visibility to the incredible work our dedicated nurses and doctors do transform the lives of children. We are incredibly grateful to Mr. Mort Hall for such a generous gift", says Stephanie Herron, Chief Development Officer, Shriners Hospitals for Children.
Roll on over to the third annual Ultimate Car Show on July 23rd to check out White and Peters Ltd.'s truck as it stands alongside a fleet of hundreds of others amazing vehicles.
EVENT: Third Annual Ultimate Car Show
DATE: July 23, 2016
HOURS: 10 am – 3 pm. *Pancake Breakfast starting at 8 am
LOCATION: Hard Rock Casino Vancouver parking lot
ADMISSION: FREE
This year's event will offer more than just exotic and specialty vehicles, it will also offer a rock and roll soundtrack, prize giveaways, summer food favorites, and much more!