Surrey – The Province of British Columbia is proud to contribute to the hosting of the Surrey 2016 WBSC XV Women's World Softball Championship by providing a grant of $135,000 through the major sport event hosting program.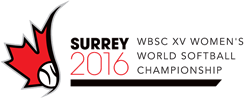 For the first time ever, this international tournament is taking place in B.C. starting July 15, with some of the best female softball players worldwide competing on teams from around the globe at Softball City.
Defending champion Team Japan and perennial favourite Team USA will look to upend the host nation, in addition to 28 other teams from the Americas, Africa, Asia, Europe and Oceania.
Tournaments like this build on B.C.'s plan to be the destination of choice for major national and international sporting events and the province's commitment to supporting communities. This softball championship follows other major, international tournaments recently hosted in the province including the FIFA Women's World Cup and the Women's World Rugby Sevens Series.
Greg Timm, chairman, Women's World Softball Championship –
"The Province's investment into the Women's World Softball Championship will help to ensure the success of it being a world-class event. We're pleased to welcome 31 participating nations to Surrey, and look forward to staging an unforgettable championship."
Quick Facts:
This tournament will be the first Softball World Championship to be hosted in B.C.
It is the largest international single sport event in Canadian history, in terms of number of teams participating.
The Canadian Open Fastpitch International Championship youth divisions will be held in conjunction with the World Championship.
Total attendance is expected to exceed 125,000 over the 10-day event.
Learn More:
To learn more about the Surrey 2016 WBSC XV Women's World Softball Championships, visit: https://www.surrey2016.com/
To learn more about the Ministry of Community, Sport and Cultural Development, visit: https://news.gov.bc.ca/ministries/community-sport-and-cultural-development