Abbotsford – The Fraser Valley has always been the brunt of many a joke about being the "bible belt".
Now, the Abbotsford School District has decided it will no longer distribute the Gideon Bible or other religious materials to students.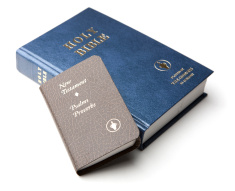 Abbotsford was the last public school district in BC that was distributing Gideon Bibles in classrooms.
The District is not commenting on their decision.
The District had required consent from parents before a New Testament Bible was given to a student.
Critics have long maintained the distribution of religious materials is in violation of the School Act.