Calgary/Grand Prairie/Fraser Valley – You might call Alberta's Brad Sims a new country traditionalist. And that's only partially correct. Brad's new single, "Our Night To Fly" was written by country hitmakers Gord Bamford, Byron Hill, and Buddy Owens…all of whom have a strong and long history of writing solid country songs that are about as far from "bro-country" as you can get.
Brad has a distinctive country edge to his voice that calls to mind artists like Alan Jackson, Joe Nichols, and Mark Chesnutt—but there's also a real contemporary feel to his music, which makes him completely at home on country radio.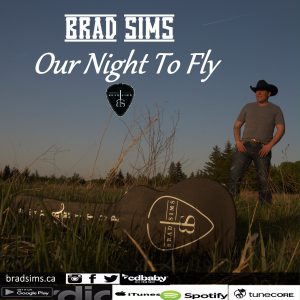 How is radio responding to Brad Sims? This is Brad's third single to be released to Canadian country radio, and the second single from his six-song EP—which will be released this summer.
And radio loves it. In fact, the song premiered in the Top Five of DMDS's downloads to radio. "I'm not taking anything for granted," says Brad. "We're off to a good start, but we realize that my career is a marathon—not a sprint. We have a great team, and the guys at MCC Recording
Studio have helped me craft a solid place to start. We'll get some wins this time out, and we'll just build on that, and as long as the fans—and radio—wants me, I'll be here."
Brad Sims has a busy summer ahead,heavily booked on the Festival and Rodeo circuit—and there'll be a little bit of time in there for a couple of stops to radio in British Columbia and an Ontario radio tour.
"I thank everyone for their support so far. I'm so grateful for everyone who's been a part of my journey so far, and all I can say is stick around…this is just the beginning."
Brad Sims www.bradsims.ca
Email: bradsims@live.ca