Victoria/Fraser Valley – BC Transit has awarded a contract for 41 mid-size (medium-duty) buses to Grande West Transportation International Ltd., a company based in Aldergrove.  The new 30-foot, two-door 'Vicinity' buses are being purchased to replace older buses that are nearing the end of their service lives and will be delivered by the first quarter of 2017.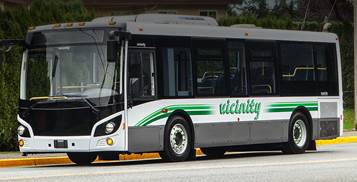 "This agreement will allow us to better match fleet investment decisions to the needs of the 130 communities we serve across the province," said Manuel Achadinha, President and CEO of BC Transit. "This added flexibility also provides a cost-effective and sustainable solution for our customers."
"We are extremely proud of this important award from one of Canada's
largest and most respected transit systems," said William Trainer, Grande West President and CEO. "This order comes after Grande West received its first order from BC Transit in 2012 for 15 Vicinity buses and their solid performance record."
The 41-bus contract worth $13 million has an option to purchase additional medium-duty buses, including a 35-foot version and Compressed Natural Gas (CNG)-powered buses, for up to five years. BC Transit plans to purchase 112 medium-duty buses to replace older buses operating in the provincial fleet.
Each Vicinity bus can seat 24 passengers with room for another 20 standing. There is also space for two mobility aids. Medium-duty buses burn less fuel and reduce greenhouse gas emissions by approximately 30 per cent when compared to a standard heavy-duty (40-foot) bus.
Final planning for which B.C. communities will receive Vicinity buses is underway.
For more information on Grande West and the Vicinity: http://grandewest.com/