Abbotsford – The University of the Fraser Valley men's soccer program has fortified its roster by adding a trio of local recruits.
Forward Nate Trampleasure (Pitt Meadows, B.C.), midfielder Bronson Hartley (Burnaby, B.C.) and midfielder/defender Kenny Larmour (Mission, B.C.) recently committed to head coach Tom Lowndes and the Cascades. They join three previously announced recruits from Surrey United's U18 side: Right back Ryan Donald, holding midfielder David Parfett and goalkeeper Jesse March.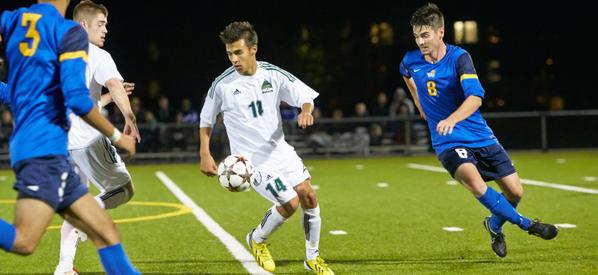 "I am delighted that we have been able to secure three more quality players to join our 2016 recruiting class," Lowdnes said, reflecting on the additions of Trampleasure, Hartley and Larmour. "Each of these players were highly sought-after recruits and will only make our squad stronger as we look forward to next season.
"It was important for me to not only recruit great players but great people as well. Nate, Bronson and Kenny will make us stronger both on and off the soccer field and we are excited to welcome them into the Cascades family."
Nate Trampleasure
5'7" forward, Pitt Meadows, B.C.
Pitt Meadows Secondary
Trampleasure had a much-decorated career with the Coquitlam Metro Ford Spartans. He led his club side to championships in the EA Sports BC Soccer Premier League in both 2013 and 2014, and was part of a gold medal-winning squad at the U16 Canadian national championships in 2014.
The dynamic forward was also a B.C. provincial team member in the U14, U15 and U16 age groups, and was recognized as a Canadian Soccer Association player of distinction in 2014.
"I chose UFV because I feel it is a good fit for me," Trampleasure said. "It is close to home and I like the campus environment and size. I plan to begin my post-secondary education in the General Studies program and then further explore my academic and career options.
"My goal is to grow and develop further as a player and I'm excited to have the opportunity to play at this level. I want to make an immediate impact with the team and I look forward to having a strong season with the Cascades."
"Nate is a player we have been monitoring closely over the past couple of years," Lowndes said. "He's a dynamic, quick and skillful attacker. He has the ability to cause teams problems with his attacking qualities and has an eye for goal as well. I am very happy that Nate has decided to continue his soccer career here with us at UFV and I am looking forward to seeing how he adapts to the CIS and Canada West during his first season."
Bronson Hartley
5'7" midfielder, Burnaby, B.C.
Burnaby North Secondary
Hartley's youth soccer career ran parallel to his club teammate Trampleasure's – he was also a key cog in the Coquitlam Metro Ford squads which won back-to-back BCSPL titles and the 2014 U16 national championship. The national title-winning side was inducted into the Coquitlam Sports Hall of Fame in the team category in 2015.
Hartley will bring intelligence and passing ability to the Cascades' midfield, and he plans to pursue a Bachelor of Arts degree at UFV.
"I chose UFV because I will be able to continue playing soccer at a high level with a great team in addition to receiving an education at a great university," Hartley said. "While playing soccer at UFV, I hope to take my game to the next level with the help of the coaching staff."
"Bronson comes to us after having a very successful club career with Coquitlam Metro Ford Soccer Club," Lowndes noted. "He is an intelligent central midfielder who has the vision and range of passing to be very successful at the CIS level. His work ethic and soccer IQ is fantastic, and this should help him with the transition from youth to university soccer. I am delighted that we are able to bring Bronson to UFV for next season."
Kenny Larmour
6'0" central midfielder/centre back, Mission, B.C.
Mission Secondary School
Larmour brings a great deal of versatility to the Cascades, having the ability to play in the central midfield or at centre back.
He plays his club soccer for the West Coast men's premier side, and was named a 2015 Fraser Valley Soccer League North all-star. He plans to pursue a Bachelor of Science degree at UFV.
"I have chosen to join UFV because it is close to home as well as a great opportunity for me to continue my playing career," Larmour said. "My goals for my time here are to play as much as possible and continue to improve towards my goal of playing professionally. I'm also excited to get a post-secondary education at the same time."
"Kenny will provide us with another central option, either at central midfield or centre back," Lowndes enthused. "He is a very technical and strong player who has already been playing men's premier soccer for a couple years now. This should help with his transition to CIS soccer and I am looking forward to see him make an impact with our squad."