Fraser Valley (SFU) – A team of Simon Fraser University researchers has found that small-scale "floodgates" that control flow in the lower Fraser River are transforming streams from nurseries for salmon and other native fish species into hotspots for invasive species. The team's study is published in the Canadian Journal of Fisheries and Aquatic Science and available online.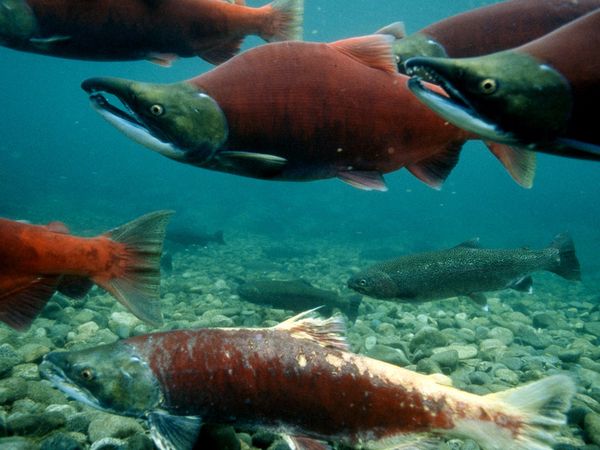 Researchers compared fish in streams with and without floodgates during spring and summer and found that floodgates were associated with 2.5 times fewer young salmon and 3.1 times more invasive fish such as brown bullheads.
"We expected to find differences in the fish communities upstream of floodgates, but what we found exceeded our expectations," says David Scott, the study's lead author. Scott carried out the research as an SFU master's student and is now a biologist with the Raincoast Conservation Foundation.
"We found a shift from fish communities with juvenile salmon and other native species, to communities in which salmon were absent or in reduced abundance, instead replaced by invasive species."
The Fraser River supports the largest salmon runs in Canada, and tidal streams in the Lower Fraser provide key nursery habitat for out-migrating juvenile salmon. However, floodgates control hundreds of tidal streams in this region to protect communities from flooding.
The researchers suggest that changes in fish communities are likely related to changes in fish passage or in changes to water quality.
"Given that there are around 500 of these floodgates on the lower Fraser River, the cumulative effects of these small barriers may be large," says Jonathan Moore, associate professor and Liber Ero Chair of Coastal Science and Management at SFU. "There are opportunities to restore floodgates so that they not only provide flood protection but also are fish friendly."
The researchers suggest that a range of gating options would help to make improvements to water quality and fish passage and, if implemented across the region would help to re-connect isolated waterways to the Fraser River. Meanwhile, Scott says initiatives such as the Watershed Watch Salmon Society's Connected Waters are helping to focus on reconnecting degraded waterways to the Fraser and restoring formerly vibrant salmon habitat to help achieve local and regional salmon recovery goals.
Moore Lab website (with link to full study): http://www.jonwmoore.org/#!news/crgd