Abbotsford – For the second straight year, Joel Kleingeltink of the University of the Fraser Valley men's volleyball team has been recognized as an Academic All-Canadian by the Canadian Collegiate Athletic Association (CCAA).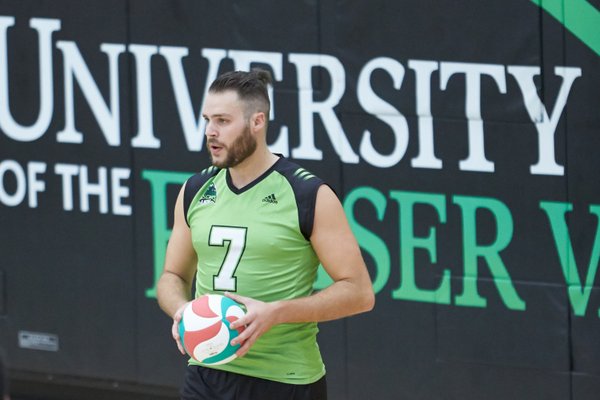 The Academic All-Canadian award is the CCAA's most prestigious student-athlete honour, encompassing academic success and athletic achievement. Recipients must not only attain an academic honours standing, they must also earn a conference all-star award.
Kleingeltink, a fourth-year right side from Langley, B.C., had a tremendous 2015-16 season, both on the court and in the classroom. The business student posted a 3.83 grade point average in the fall semester. He also led the Cascades and finished third in the PacWest in total offence (4.16 points/set) and kills (3.35/set), and ranked 10th in the PacWest in aces (0.35/set). He was subsequently named a PacWest second team all-star.
"Joel is a great representative of the Cascades on the court and in the classroom," said Steve Tuckwood, UFV director of athletics and campus recreation. "Congratulations to him on this recognition."
Kleingeltink, who also earned an Academic All-Canadian nod following the 2014-15 season, said his involvement in sport has contributed to his academic success.
"School and sport are very comparable, in that you're trying to achieve the highest success that you can," he said. "In sport there's usually only one winner, but in the classroom, everyone can be a winner in a certain way. The only obstacle is how much time and effort you want to put into it. Working in groups and with other people, you can push each other and everyone can produce something they're proud of.
"On the court, I want to win, and in the classroom, my classmates and I are always pushing each other to have all the success we can."