Edmonton (CP/Huffington Post) – Members of the NDP have soundly rejected Tom Mulcair's bid to stay on as the party's leader, voting 52 per cent in favour of choosing a replacement within the next 12 months.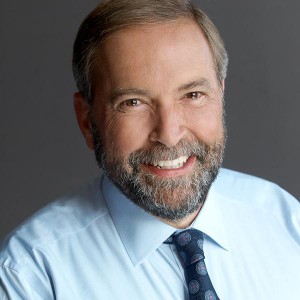 Mulcair, who less than a year ago appeared to be well-positioned to become Canada's first NDP prime minister, received just 48 per cent support from delegates at the NDP convention in Edmonton.
A bare-minimum 50 per cent plus one vote would have been necessary for Mulcair to stay on, let alone have anywhere near enough support for a confident mandate — a threshold some had pegged at closer to 70 per cent.
The result left the cavernous convention floor in a stunned silence. Mulcair was not in the room, but officials said he was backstage. It was not immediately clear whether he would come out to acknowledge the outcome of the vote.
The decision — a far worse result for Mulcair than even his fiercest detractors might have expected — was the culmination of a festering dispute over the NDP's future direction in the wake of last year's devastating election loss.
Less than six months ago, the party was badly outflanked by the Liberals in last October's federal election and reduced to third-place status in the House of Commons.
The party began the campaign as the official Opposition and appeared poised to make a run at forming Canada's first NDP government, only to collapse over the course of a historically long campaign and end up losing more than half its seats.
Mulcair's last pitch falls short
Prior to the vote, Mulcair made one last pitch to the New Democrat faithful to allow him to stay on as leader, urging rank-and-file members to stand with him.
He said he has accepted the blame for the mistakes of last year's disappointing election campaign, but insisted he is re-energized, reinspired and re-engaged after six months of meeting grassroots supporters.
"We made mistakes that cost us a victory in October, and for that I take responsibility," Mulcair said.
"I share your deep disappointment in the election results. That's why we've held unvarnished debrief sessions across the country — to understand what went wrong, what mistakes were made, and how we can apply those lessons going forward."
It was a largely familiar speech, one that included echoes of many of Mulcair's public comments in the months since the election, and steered largely clear of some of the sore spots that have endangered his status as leader.
'Leap Manifesto' debate to continue
In particular, Mulcair made no mention of the so-called "Leap Manifesto," a proposed policy pivot from the left-most factions of the party who want to see the NDP embrace some more drastic measures to combat climate change and aboriginal issues, among others.
Prior to Mulcair's speech, delegates voted to adopt a motion to debate the manifesto's ideas and proposals, which include:
— Moving away from fossil fuels so that Canada gets 100 per cent of its electricity from renewable resources within 20 years and is entirely weaned off fossil fuels by 2050;
— No new infrastructure projects aimed at increasing extraction of non-renewable resources, including pipelines;
— An end to all trade deals "that interfere with our attempts to rebuild local economies, regulate corporations and stop damaging extractive projects";
— Expand low-carbon sectors of the economy, such as caregiving, teaching, social work, the arts and public-interest media;
— Ending fossil fuel subsidies, imposing financial transaction taxes, increasing resource royalties, hiking taxes on corporations and the wealthy, introducing a progressive carbon tax, and cutting military spending.
Billing himself as a hard-nosed political fighter, he said only New Democrats will continue to battle against income inequality, because the Liberals and the Conservatives are too loyal to their corporate backers and the status quo.
Last year alone, Canada's big banks made a record $35 billion in profits, and handed out $12 billion in bonuses to their executives, all while cutting thousands of Canadian jobs, he said.
"We don't accept that," Mulcair said. "Liberals and Conservatives will tell you that this is just the way things are. They will say this is the inevitable outcome of market forces, that nothing can be done."
"Well, allow me to be blunt: This is complete and utter BS."
The rift within the NDP over Mulcair's leadership was evident during his speech, as some supporters jumped to their feet to applaud and express their support, while others on the convention floor stayed stone-faced and seated.
By the end, however, he appeared to have at least earned an earnest standing ovation for his efforts.
"If you keep standing with me, then together, we will never stop fighting," Mulcair said as his speech built to a crescendo, the applause building around him.
"So – stand with me…. Stand if you want to fight to grow our party and strengthen our movement…. Stand if you want to unite progressives in Quebec with those in the rest of the country…. Stand if you want to fight to build a country that generations of New Democrats, young and old, have dreamed of and organized for."
"A Canada that is loving, hopeful and optimistic. Where everyone belongs, everyone matters, and no one is left behind."
When it was over, Mulcair was swarmed by supporters, and appeared close to tears as he moved into the crowd.
Over the 24 hours leading up to the speech, the efforts among those who want to see Mulcair ousted for failing to effectively communicate the NDP's vision to voters intensified. The embattled leader is also facing muted but undeniable criticism from within his own caucus.
Mulcair said the federal Liberal budget proves that when it comes to child care and health care, the principle of universality — the cherished legacy of party founder Tommy Douglas — is in peril.
"Tommy's vision is under threat like never before," he said. Creeping privatization and a Liberal budget that doubles down on Stephen Harper's health care cuts threaten the quality of health services in Canada. Let there be no doubt: Together, we will fight like hell to protect universal health care, because there is nothing more universal to New Democrats."
And he renewed a push for electoral reform, saying that the Liberal government of Justin Trudeau has already started to back away from its promise to end the current first-past-the-post system, which he says effectively discounted some nine million votes in October.
"Of course, Conservatives believe the unfair status quo is just fine. Liberals, on the other hand, promised change, but they are already starting to backtrack on that as well," he said.
"My friends, the next few months will be critical in the fight for proportional representation. We have to stay strong and united to lead this fight together."
Today's vote, which is to determine whether the party should hold a leadership review, comes less than six months after an election in which the party was outflanked by the Liberals and dropped back to third place in the House of Commons.
The party started the campaign as the official Opposition and led the polls at the beginning, only to suffer a catastrophic campaign that cost it more than half of its Commons seats on Oct. 19.
An internal political post-mortem of the election results blamed the disaster on a decision to offer cautious change instead of the sharp change promised by the Liberals and a failure to prepare for campaign challenges.