Abbotsford — A handy new app has been released for parents and students in Abbotsford School District: the Abby Schools app is now available for downloading on iPhones or Android mobile phones. The app provides the user with announcements, news, events and contact information about any of the district's schools and many district departments. Once downloaded on a phone, a user can choose which school or district department they wish to receive information from. There is an ability to have notifications so parents, students, staff or any user can be aware when new information is posted by the school or district.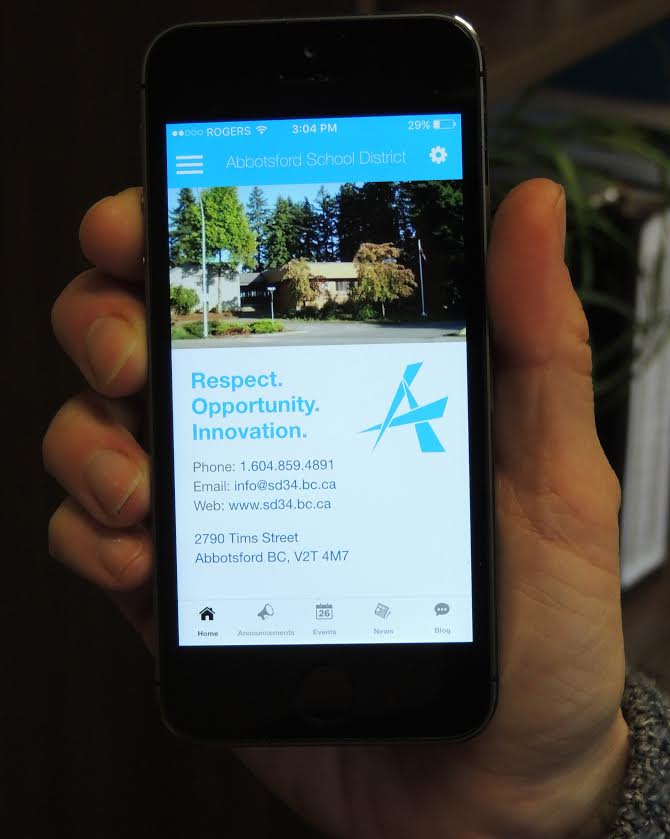 "Our new district and schools app has been developed with a focus on delivering even more effective communications with our key stakeholders," says Rhonda Pauls, Chair of the Abbotsford Board of Education. "This is the latest method we can offer parents and students to keep right up-to-date on school and district information. As we continue work on our district strategic goals of parental and community engagement, along with innovative use of technology, this will be a terrific asset for our communications."
The new mobile app is directly linked to school and district websites, so once content is published to the website it automatically is pushed to the app as well.
"This creates a more efficient method for our staff to get messages and information out to parents, and students," says Chair Pauls
The new app is easily downloadable to iPhones and Androids. Search on either for "Abby Schools".  Users can follow any number of schools, along with district and department information.
To get the app for iTunes go to: https://itunes.apple.com/ca/app/abby-schools/id1075116746?mt=8
Google Apps for Android: https://play.google.com/store/search?q=Abbyschools