Mission – Mission's Midget A1 team has qualified for this year's Provincials in Prince George. Mission A1 started their road to the Provincials beating by Seafair A2 in the single game elimination, qualifying them to play a four point series against Coquitlam A2. It took four games to get to 4 points, but Mission made the final four tournament after winning an exciting game in Coquitlam, scoring 49 seconds into overtime to win 1-0, on a goal by Jesse Forester. Goalie Chad Cromar made spectacular saves along the way to give Mission the chance to win.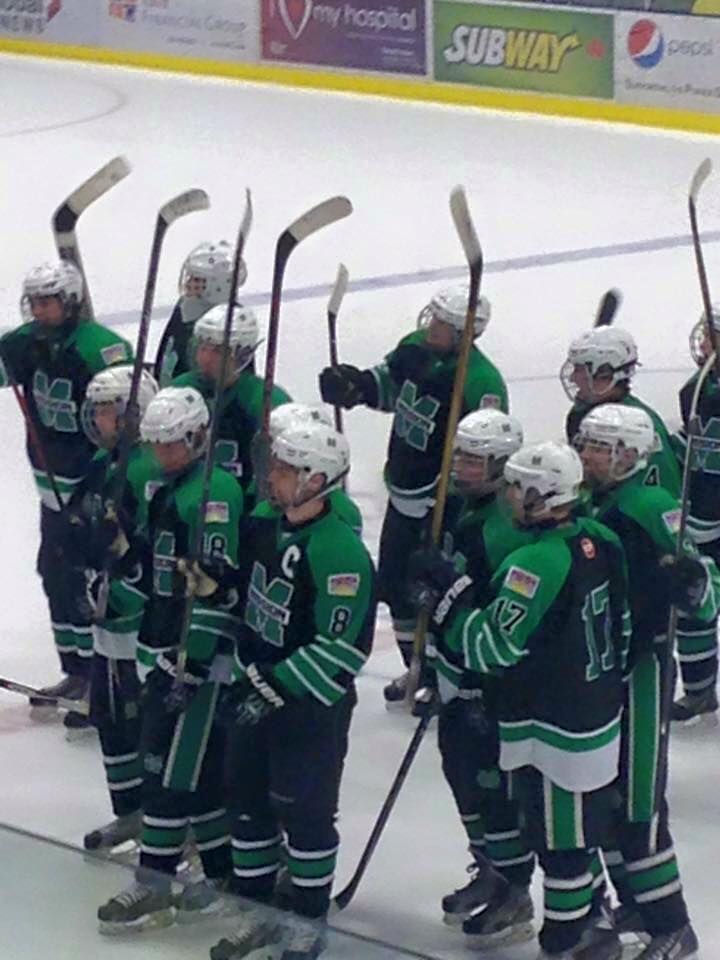 The very next night, Mission played 1st place Aldergrove in game one of The Final Four tournament, but unfortunately came up short. Mission was in familiar territory facing elimination with two games remaining. The third year leadership of this team really stepped up in the elimination games and put together a convincing victory over North Shore Winter Club.
Mission's final game of the Final Four was against heavy rival Port Moody. Prior to the game Mission had lost 3 key players due to sickness and the Flu, with many others sick but continuing to play. Mission trailed most of the game, and were down 3-1 with 15 min to go. Head coach Wes Mcleod rallied the boys letting them know they needed to score only 2 goals as a tie would qualify them. Moments later Dawson Nelson scored to narrow the margin to 1 goal, and minutes latter scored his second of the night to tie the game at 3-3. Port Moody pulled their goalie trying to regain the lead, but 3rd year Kyle Mooney sealed the victory scoring his 2nd of the night on an empty net.
Big thanks to the parents who were cheering on the boys and all the non-parents from Mission who came to Aldergrove to cheer on the boys. The entire team played their hearts out and the 3rd years showed leadership to never quit and play their role. This team will represent Mission well at this years 2016 provincials in Prince George!
2016 Mission A1 Roster: Billy Tiendel, Brendan Bell, Chad Cromar, Dawson Nelson, Dayton Spink, Dylan Newman, Garret Brown, Hayden Vetteryl, Jackson Pekeski, Jaeden Choy, Jesse Foster, Kyle Mooney, Nathan McKeigan, Nick MacDonald, Owen Gossen, Riley Wertman, Sean Sidhu.