Hollywood (Dealine.com) – It's official: Fantastic Four and Fifty Shades of Grey are the worst movies of 2015. At least according to the 36th Annual Razzie Awards, where the two films positively cleaned up. Tied for Worst Picture, the pics took home a combined seven Razzies, with Fifty Shades nabbing Worst Screen Combo and both Worst Actress and Worst Actor, and Fantastic Four director Josh Trank taking home the prize for Worst Director.
Fantastic Four's 3 'wins' total is yet another black mark on Fox's attempt to reboot the Marvel franchise. Overshadowed in the months before release by (mostly unconfirmed) stories of turmoil behind the scenes, the strangely grim take on one of Marvel's sunniest properties flopped hard, earning a relatively paltry $168 million on a budget of $120 million. Unsurprisingly, Fox removed a planned sequel to the film from its schedule back in November, but tonight's win might as well be the final nail in that sequel's coffin. But at least it didn't have as bad a showing as Fifty Shades, which took home 5 Razzies total. Shades will of course be crying all the way to the bank however: the bondage romance based on Twilight Fanfic made $571 million last year, and Universal Pictures has been shouting "haters gonna hate" ever since.
But it wasn't all bad news, as Sylvester Stallone, the all time Razzie champ, was awarded the second annual Razzie Redeemer Award. Introduced last year, the prize acknowledges past Razzie winners who've gone on to do better work, decided by a public vote of Rotten Tomatoes users. His win comes thanks to his Academy Award-nominated turn in Ryan Coogler's Rocky spinoff Creed, which was universally praised (but, aside from Sly, completely ignored by the Academy). One wonders if he'll mention this tomorrow, if, that is, he wins that Oscar. Or at least, I wonder.
Announced tonight at 8 PM at the Palace Theater in Los Angeles, as usual on the eve of the Academy Awards, the Razzies are a preemptive middle finger to what Razzie Awards founder John Wilson called "Tinsel Town's annual glut of self congratulatory awards."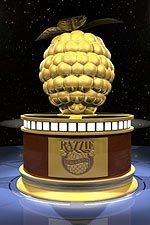 Here's the complete list of Winners:
Worst Picture 2015
Fantastic Four
Fifty Shades of Grey
Worst Actor 2015
Jamie Dornan
Fifty Shades of Grey
Worst Actress 2015
Dakota Johnson
Fifty Shades of Grey
Worst Director 2015
Josh Trank (& Alan Smithee?)
Fantastic Four
Worst Screenplay 2015
Fifty Shades of Grey
Screenplay by Kelly Marcel
Based on the Novel by E.L. James
Worst Supporting Actor 2015
Eddie Redmaine
Jupiter Ascending
Worst Supporting Actress 2015
Kayley Cuoco-Sweeting
Alvin & The Chipmunks: Road Chip [Voice Only]
& The Wedding Ringer
Worst Remake, Rip-Off
Fantastic Four
Worst Screen Combo 2015
Jamie Dornan & Dakota Johnson
Fifty Shades of Grey
Razzie Redeemer Award 2015
Sylvester Stallone
Sylvester Stallone, from All-Time Razzie Champ
to 2015 Award Contender for Creed