Duncan, BC  (Cowichan Valley Capitals)– The Capitals are headed to the post-season for the first time in four years clinching a berth after posting a 3-1 win over the visiting Chilliwack Chiefs Saturday night.
In one of the most entertaining games of the season, the Capitals faced a barrage of Chilliwack scoring opportunities in the opening ten minutes but Storm Phaneuf made a remarkable 18 saves in the first period alone as the Caps were outshot 18-4 and headed to the second period in a scoreless tie.
The Caps' offence came alive in the second as it was a complete reversal of fortunes from the opening frame putting up a whopping 22 shots on Matteo Esposito but it was the Chiefs who opened scoring with Kale Kane's 13th of the season at the 8:16 mark. Just as it seemed Chilliwack would head to the third with the lead, Matt Hudie scored his 22nd of the season deflecting a hard Pat Geary pass past Esposito to tie the game at one with just 17 seconds left in the period.
Hudie then scored his second of the game and fifth in the last three games midway through the third to give the Caps the 2-1 lead. The Chiefs had two power plays in the third but the Capitals PK was solid all night going a perfect 4/4, maintaining the one-goal lead until Josh Adkins put the game on ice with just under two minutes to play with his 19th of the season.
Phaneuf finished with 38 saves for his 19th win of the season earning the game's first star. Geary finished the game with three assists giving him six points in the last three games while Hudie also has six points in the last three.
The win combined with an Alberni Valley loss to Salmon Arm secured the Capitals first playoff berth since the 2011-12 season.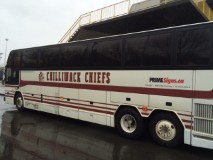 The Chiefs have already clinched a playoff spot and continue to fend off Wenatchee for first in the Mainland Division. The Chiefs wrap up their three game Island road trip Sunday in Victoria.