Chilliwack, BC -After a very comprehensive and exhausting search by staff and Huskers new Head Coach Jason Quinter, the official announcement of the Valley Huskers new coaching staff for 2016 was made yesterday by club President Jack Covey.
The new core lineup of coaches for the upcoming season has some familiar faces as well as some new ones but all in all is a very impressive assembly to say the least. "With the knowledge, connections and a system he believes can turn the club around, Head Coach Quinter has assembled a most qualified group of coaches", President Covey stated. It is said that quality players like to learn and play for quality coaches and if that's the case the fans could be in for a real treat this next season.
The list of coaching talent goes like this:
Jason Quinter (Head Coach and Director of Player Personnel) Jason is no stranger to football having been born into a football family. Jason's father Bill spent 45 years as a player, coach, scout, Director of Player Personnel and General Manager in both the CFL and NFL. Working twice for the B.C. Lions (77-84 and 90-94) Quinter was part of two Grey Cup teams and was also instrumental in building B.C. amateur football by running development camps that he eventually turned into the Senior Bowl that still runs today.
Jason inherited his father's genes, both as a player, recruiter, talent evaluator and coach. Playing at Notre Dame Senior Secondary during their glory years, Quinter played in 3 Provincial Championships, winning two and was a two-time Provincial All Star as a QB and punter.
Going to Bakersfield College after graduation, Quinter made the jump from QB to WR and played two more years before retiring. Taking time away from football, Jason focused on his career in corporate sales while also occasionally helping out his father at practices and games with the Winnipeg Blue Bombers and then the B.C. Lions.
After his father's death in 2014, Jason returned full time to coaching with Abbotsford Senior Secondary and, in an effort to honour his father's memory, established the "Best in Class" football camps and recruiting services which prepares high school kids for the next level of competition (Junior, Community College or University) while also completing their educations.
In the time since establishing the camps, the "Best in Class" program has grown into something much bigger with Jason's group awarding scholarships every spring to deserving student-athletes and establishing The William Quinter Society, an organization created to fulfill the mandate of the "Best in Class" mission statement of "Helping all kids. Not just the ones who can afford it."
Corey Hamade (Offensive Coordinator) Corey has been involved in amateur football for the last 20 years as a player and coach. Working his way through the community system in the valley with the Abbotsford Falcons, Hamade went to WJ Mouat for his high school years. From there, he moved to Mission and then Abbotsford for community football before joining the UBC Thunderbirds.
Finishing up his playing career, Corey made the jump into coaching, starting with WJ Mouat for three years he then moved to the Abbotsford Air Force and later in 2009 he joined SFU. In 2011 Hamade returned to his roots in the valley. First he joined the Chilliwack/Valley Huskers as the Special Teams Coordinator and DB coach, then going on to be named the Offensive Coordinator and then Defensive Coordinator.
Corey took a break last year to recharge his batteries. The Valley Huskers are thrilled to have a recharged Corey back as Offensive Coordinator. With a large group of talented newcomers coming in, Hamade will be charged with building an offense that takes advantage of all that talent.
Elmore Abraham (Defensive Coordinator) Elmore brings to the table a tremendous history as both a player and coach in B.C. High School, Junior and College football. He's considered by many to be one of the best running backs to ever play high school football in B.C. Abraham led Notre Dame's vaunted running attack in their glory years and was a multi-year MVP and All Star.
Moving on to college, Elmore started as a true freshman at Bakersfield College in California before transferring to UBC. Finishing his career with the Thunderbirds-and having obtained his teaching degree, Abraham moved into coaching, first with Notre Dame and then Holy Cross before moving to Abby Senior Secondary.
Serving as the Defensive Coordinator for both the Junior and Senior Abby Panthers, Elmore and the Abby program narrowly missed winning their second Provincial Title, losing a tough final to Carson Graham this year. Abraham is one of the most technically advanced coaches in the Province, and one of the few at the high school level who prepares specific game plans every week. He runs an aggressive, attacking style defense that players and Husker fans will love.
Luke Acheson (Asst. OC and Offensive Line) Luke is a native of Mississauga Ontario and started his playing days as a Gryphon for Glen Forest. He moved to British Columbia in 1993 and played for the Abbotsford Panthers and Junior Football for the Abbotsford Air Force of the CJFL. He was the Airforce Special Teams Player of the Year in 1995, team Captain, Offensive Lineman of the year and BCFC all-star in 1997 and 1998.
Luke played 6 seasons at the University of Manitoba and was honoured as a CIS Canada West All Star in 2003 for his play at centre. Acheson then joined the Team Manitoba coaching staff as Offensive Line Coach and won a Gold Medal in the national tournament.
Luke then returned to B. C. and coached Junior Football with the Chilliwack Huskers as the Offensive Line Coach in 2009, Head Coach, Offensive Coordinator and Offensive Line Coach in 2010 and Head Coach and Offensive Line Coach in 2011. Acheson comes to us from the G. W. Graham high school football program where he spent the last four years building a provincial powerhouse as an Offensive Coordinator and Offensive Line Coach. Last season Luke had an unprecedented four Conference All-Stars and one Provincial All Star on the offensive line.
Tyler Garrah (Special Teams Coordinator/LBs) Tyler is coming back for a second season taking on a larger role as the Husker's Special Teams Coordinator. Garrah will also be working with the linebackers looking to improve their everyday football knowledge and skill sets.
Tyler played all of his football in Kingston Ontario, including high school with football powerhouse Frontenac Secondary. Garrah, who is 28 years old, would like to make a career as a football coach. He believes in the new direction the team is moving, and is excited to be a part of the Huskers organization for a second year.
Tyler lives in Chilliwack with his wife and 2 young boys.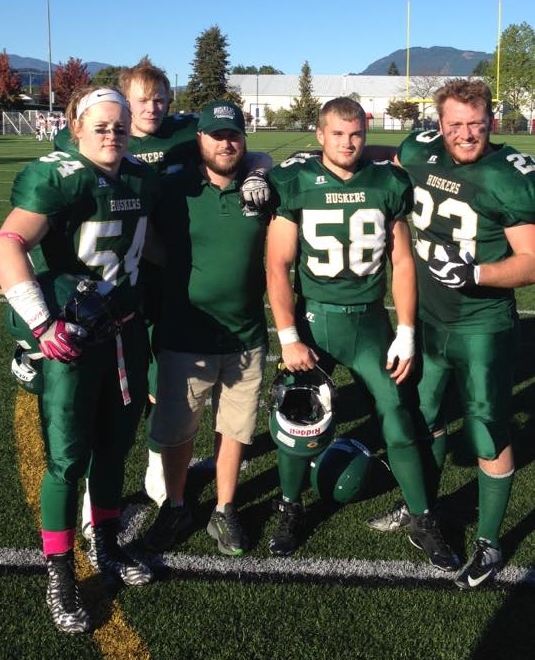 Jason Campbell (Defensive Line) Jason has a long history with the Chilliwack/Valley Huskers, dating all the way back to 1998. As a player, Jason started off with the Chilliwack Steelers Community team back in 1993 before spending 3 years playing for the Abbotsford Air Force.
Moving into coaching, Campbell spent the inaugural season of the Huskers as a player/coach before moving fully into coaching. Over the last 15 years, Jason has been a part of different Husker staffs, serving as a defensive assistant, mostly focusing on LBs. Jason has also spent the last 4 years as both a Defensive Coordinator and Defensive Line coach for GW Graham's high school team.
Jason will be joining the Huskers as the Defensive Line Coach
Kirk Jones (Receivers) Kirk is an outstanding receiver coach who will also help with DBs and speed development. He was a speed wide receiver when he signed with the Edmonton Eskimos in 1986. Unfortunately, injuries and import/non-import roster moves kept him from continuing in the CFL. Not wanting to give up on playing, Kirk continued in semi-pro ball and was an All-Star wide receiver while playing in Northern California and Washington State.
Teague Funk (Receivers) Teague has been coaching in the Fraser Valley for the last decade, the last three seasons spent running the powerhouse Abbotsford Senior Secondary offense. Serving as Offensive Coordinator, Funk oversaw one of the most prolific offenses in high school football and came within a game of winning the Provincial Championship. Prior to that, Teague pulled double duty, also overseeing the Abby Junior Varsity team's offense as well as coaching WRs and DBs. His relationship with the school dates all the way back to 2007.
Up until last season, Teague was also a WR coach with the Langley Rams in 2012 and 2014, both years going to the championship game. Prior to getting into coaching, Funk played for the Valley Huskers as a receiver and was also named the Ron White Award winner in 2010 for Community Spirit and leadership in the community.
Before that, Teague played for the Rick Hansen Hurricanes in high school and was a starting wide receiver and defensive back on their 2004 Provincial Championship team
JR Redmond (Running Backs) JR is someone who needs no introduction. A former college standout at Arizona State as both a running back and kick returner, Redmond was a 3rd round pick of the New England Patriots. Spending 6 years in the NFL, JR won a Super Bowl with the Patriots and finally retired in 2005.
Moving into coaching, JR also started "Just Run Pro Training", his own speed and explosiveness camps for kids across the US and in Canada. His exposure to Canada brought him to Chilliwack where, in addition to running his camps, Redmond also served as a guest coach at the Husker Spring Camp last year.
With his Just Run Pro Training camps becoming more and more popular in B.C. JR will be spending more time in Chilliwack this season and we look forward to having him help out as Running Backs coach.
Our Mission Statement: "We will actively recruit players, staff and volunteers by providing leadership, resources and strategic planning while staying accountable to our team, membership and community".
For more information visit: www.valleyhuskers.org