Abbotsford, BC – On Tuesday night (December 15, 2015 at 8:10 pm), police received a call reporting that a male suspect had pointed a gun at a woman and child at a strip mall in the area of George Ferguson Way and Gladwin Road.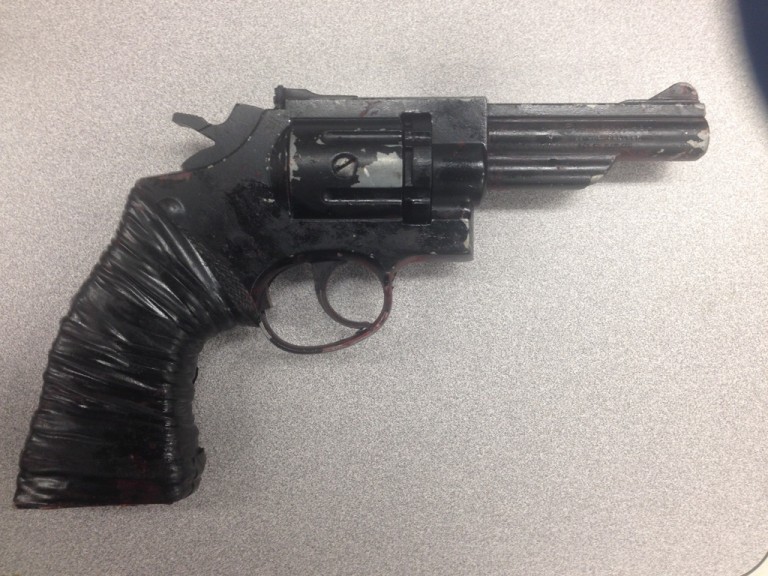 Abbotsford Police Department Patrol Division officers were immediately dispatched to the area.
At 8:13 pm the Abbotsford Police Communications Centre received an alarm call indicating that glass had been smashed at a pharmacy in the 2900 block of Gladwin Road.
As police converged on the area, a 911 call came in reporting a robbery at a pharmacy inside a grocery store in the 2800 block of Gladwin Road. The suspect had pointed a gun at the pharmacists and took a very small quantity of drugs.
The suspect was confronted by several APD officers as he left the grocery store.
He was taken into custody at 8:18 pm.
The suspect had cuts to his hand which were likely caused by the glass-smash break and enter.
Blood drops were observed at that scene and his hand was bleeding when he approached pharmacy staff.
Several citizens had a gun pointed at them which looked real but was later determined be a BB gun.
APD officers were also placed in harms way when the man left the grocery store with that gun in hand and pointed it at officers.
Fortunately, the officers showed restraint and were able to take the 57-year-old suspect from Abbotsford into custody without further incident or injuries.
Police will be recommending Robbery, Break and Enter, Mischief and four charges of Pointing a Firearm against him.