Fraser Valley (With files from JoyTV) – Dave Grandy has had a hard life. Quite frankly, you may not have been able to survive some of the challenges that Dave has faced. He spent much of his life on the streets and compound that with substance abuse. Just over four years ago, he came to the Ruth and Naomi's Mission in Chilliwack and became one of its first residents.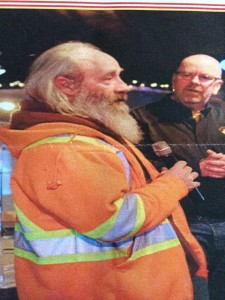 So thankful for what R&N did for him, as well as his own spiritual and religious beliefs, that he wanted a way to give back.
Ironically, all throughout Dave's life, he has had to walk everywhere so he suggested doing a sponsored long walk challenge.
November 20th to 29th will mark Dave's Fourth "Walk With Purpose". This year he plans on walking more than 200kms between Hope-Mission-Abbotsford-Yarrow then back to Chilliwack.
No matter what the weather conditions are.
Here is video that JoyTV put together for last years walk and previewing the upcoming trek.
Dave's goal is to raise in excess of $10,000 to go towards Christmas expenses at Ruth and Naomi's Mission.
This may be just the perfect Christmas gift. Sponsoring Dave on behalf of a family member or friend or for yourself and helping the cause.
For more information, the website can be found here or call direct to 604 795 2322.