Chilliwack, BC –  RCMP Constable Michael Sabulsky was honoured in Toronto on Saturday September 26th with the Terry Ryan Memorial Award for Excellence in Police Service.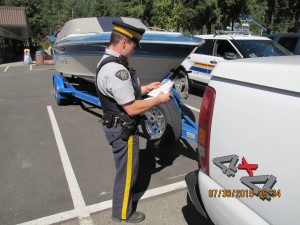 The award was established by Mothers Against Drunk Driving (MADD) in memory of Constable Terry Ryan who was tragically killed in a two-car alcohol-related collision while on his way home from a function in the Durham Region, Ontario, in 2002. It is awarded annually to a police officer in Canada to recognize exemplary service in reducing the incidence of impaired driving. Constable Sabulsky is the first police officer in British Columbia to win the award.
Cst. Sabulsky has been with the RCMP since 2008 and has been posted in Chilliwack as part of the Upper Fraser Valley Regional Detachment since July of 2011, where he currently serves in the Traffic Services Unit. A passionate advocate against impaired driving, Cst. Sabulsky comes to work every work day with an energy which inspires those around him.
"I think drunk drivers are the single greatest risk on our roadways. Every impaired driver we take off the road saves a life," said Cst. Sabulsky.
Cst. Sabulsky supports what he says with his actions. He's been a member of Alexa's Team for the past five years – part of a dedicated group of police officers removing large numbers of Impaired Drivers from BC roadways.
"We are proud that an officer from Chilliwack is the first police officer in BC to win this award from MADD Canada. Constable Sabulsky is well known in the community for his passion for improving road safety and is a valuable member of the City of Chilliwack Safer City team," said Mayor Sharon Gaetz .
When not on the road Cst. Sabulsky hone's his expertise while developing the skills of fellow officers. Cst. Sabulsky is a Drug Recognition Expert, an Alco-Sensor FST (road side screening device) Master Instructor, and an Intoximeter EC/IR II Operator (previously known as a breathalyzer operator). Cst. Sabulsky maintains all road side screening devices within the Chilliwack police office and is always available to assist other officers when they require his expertise.
"Constable Sabulsky, through his focus and tenacity, has single handedly made the roadways of Chilliwack, indeed British Columbia, a safer place for all who travel on them. His dedication to road safety and in particular to the removal of impaired drivers from the roadways, is commendable and a credit to himself, the RCMP and all British Columbians," said Superintendant Deanne Burleigh Officer in Charge of the Upper Fraser Valley Regional Detachment.
"On behalf of ICBC we congratulate Cst. Mike Sabulsky on this award from MADD Canada. Mike is a very dedicated police officer and very deserving of this prestigious award and his dedication to combating impaired driving is commendable. We are very fortunate to have officers like him making our community a safer place to live," said Mike Weightman Road Safety Coordinator ICBC.
"Shock is what I felt when I was told about the award. It is nice to know I am making a difference. The support of my family makes it possible for me to continue my commitment of preventing impaired driving on our roadways," said Sabulsky.