Chilliwack, BC – The Chilliwack Film Commission is going through a growth spurt and a name change.
The film industry in the 2000's took a hit because the Canadian Dollar was not too appealing to American film companies, who would have l9oved to come into the country, let alone the Fraser Valley to do business.
One of the up-sides of the sluggish loonie and this recession, is that the Canadian and Fraser Valley economy is once again, very attractive to film producers.
Just take a look at Wayward Pines recent shoot in Agassiz and the return of the X-Files re-boot.
In taking advantage of this, the Chilliwack Film Commission, under the watchful eye of CEPCO(Chilliwack Economic Partners Corp) have re-branded the Film Commission to … TA-DA! The Chilliwack Creative Commission.
Board Member Tim McAlpine addressed the Tuesday sitting of Chilliwack City Council to outline their plans to be more aggressive in attractive new film projects to the area.
One of the first events to show off the new look and re-energized focus will be at Canada Education Park on October 22 from 7-9 PM. It will be an RSVP affair with emphasis on Government and Media to get the word out.
Come and learn more about the untold stories of Chilliwack's creative economy. Creative Chilliwack is a free event and will feature 14 local speakers each with a unique story to tell delivered in a very unique format.
PechaKucha 20×20 is a simple presentation format where you show 20 images, each for 20 seconds. The images advance automatically and you talk along to the images.
It will be fast-paced, insightful and inspirational and the members of the Chilliwack Creative Commission would like to invite you to attend. Please reserve your spot today as we expect to be sold out.
Brought to you by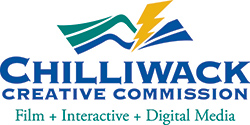 The Chilliwack Creative Commission is a subcommittee of the Chilliwack Economic Partners Corporation. The Chilliwack Creative Commission was founded in 1999 as the Chilliwack Film Commission and is being rebranded in 2015 with an expanded mandate to support and promote opportunities in film, interactive and digital media
A quick history lesson on the Chilliwack Film Commission:
The Chilliwack Film Commission, a division of Chilliwack Economic Partners Corporation (the economic development organization of the City of Chilliwack), was formed in 1999 in response to a growing interest from producers to film in Chilliwack's diverse landscapes. The Commission's mandate is to attract film professionals from all over the world, to facilitate their needs and to provide top rate locations. The Commission has set in motion a number of initiatives (including this Web site) to make it easy for producers and site locators to select Chilliwack.
A Supporting Role    
The Commission's efforts will help provide jobs for the community and build BC's billion-dollar film industry, which is the third largest in North America behind Los Angeles and New York.
Chilliwack has already proven to be an attractive filming location. To date, a number of major productions have been filmed in Chilliwack, including The Pledge (starring Jack Nicholson), The Stick Up (starring James Spader), The Mangler 2 (starring Malcolm McDowell), as well as some commercials (eg: A & W Restaurants, Smucker's and Canadian Savings Bonds) and the Sci-Fy Channel series Eureka.
If you do not see the service or resource you need in this Web site, please contact us directly at info@chilliwackfilmcommission.com. Our goal is to provide all the locations needed to film your entire project in Chilliwack's unique, rural and small-town settings. Check out our locations database, which is filled with a variety of locations, and let us be your one-stop shopping source for filming in Chilliwack.
Chilliwack Film Commission Board of Directors

Ian Fenwick, Chair
University of the Fraser Valley
Michael Cade
Chilliwack Cultural Centre
Geoff Edwards
streamworks.ca
Bob Fugger
Origin Pictures
Jason Lum
Councillor, City of Chilliwack

Tim McAlpine
Currency Marketing
Wayne Price
Virtual Television Network Inc.
Glen Slingerland
89.5 The Drive