Ottawa (CP/Huffington Post) – Independent MP Brent Rathgeber wants Canadians to be able to fire their member of Parliament if they are unsatisfied with the job he or she is doing.
The Edmonton MP, who quit the Conservative caucus after the government tried to water down his bill on public salary disclosure, tabled a new Bill C-697, the "Recall of a Member of Parliament Act," Wednesday.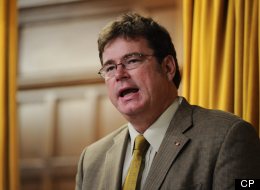 In an email to The Huffington Post Canada, Rathgeber said there was no greater democratic deficit than "representatives whose priority is their party not their constituents."
"This place will only work if government is accountable to Parliament and parliamentarians are accountable to their constituents," he said.
Under the bill, a petition signed by a minimum of 25 per cent of the electors would render a seat vacant and trigger a byelection.
Canadians who signed the petition would have had to be eligible voters in the last contest — in other words, people who could have voted for the MP — and who still reside in the electoral district.
An MP who is "fired" would be allowed to contest the byelection to see if he or she still has the confidence of a plurality of electors.
Rathgeber's bill says a recall petition can't be issued within 12 months of an MP's election or within 12 months of a fixed election date.
"It is not the intent of the legislation to be used as a mechanism to re-fight a recently concluded or closely contested election nor is it an efficient use of taxpayer resources to hold a recall election in the last year of a fixed mandate," Rathegeber notes in his press release.
The MP said the impetus for his bill was motivated by Alberta's former Wildrose leader Danielle Smith's decision to cross the floor and join Jim Prentice's Progressive Conservatives. Smith lost her PC nomination and Prentice's party went down in defeat.
Rathgeber said he thinks all MPs are generally very bad at holding government to account. "The very threat of being recalled would have an effect on MP performance," he said.
"The only bosses are one's constituents," he added.