Coquitlam (Files from CP/News1130)– There will not be an appeal to a decision granting escorted community outings to Allan Schoenborn.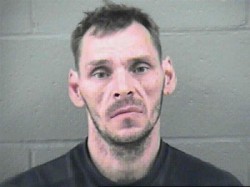 The province has decided against legally challenging a decision by the BC Review Board granting Schoenborn, who was found not criminally responsible for killing his three children in 2008, supervised day trips.
The ruling was made late last month by a three-member panel that spent one month deliberating over a decision that usually takes less than a day.
The Criminal Justice Branch says its members understand the terrible impact the case has had on the victims and has issued a lengthy explanation for making its legal conclusion.
"After a thorough review of the Board's Reasons, as well as the evidence that was before the Board for consideration, the Branch has concluded there is no likelihood that it can meet the legal requirements for appellate intervention. Accordingly, an appeal will not be filed on behalf of the Crown," reads the statement.
Darcie Clarke, the children's mother, says in a statement the decision shows the BC government is willing to pay victims lip service, but will not back it up.
The board's ruling gives the hospital director discretion to direct trained staff to escort Schoenborn on highly managed excursions into suburban Vancouver.
Darcie Clarke's full statement:
Two weeks ago Allan Schoenborn, the man who murdered my three children – Kaitlynne, Max and Cordon – was granted escorted visits into the Tri-Cities. This was an outcome my family and I had been dreading. Today, that dread has turned to anguish.
Today Justice Minister Suzanne Anton refused to help correct an unjust decision and turned down our appeal of the B.C. Review Board's ruling granting freedoms to a triple child killer.
Over the last four years my family and I have worked hard to correct the imbalance in the Not Criminal Responsible (NCR) system. We thought the B.C. Government was our partner in this fight. Today's decision shows they are willing to pay victims lip service but not back it up with their administrative nor legal power.
The B.C. Review Board failed to use the tools afforded to them by the Federal Government under Bill C14. These tools give more treatment considerations to the NCR accused, more time for victims to heal and greater transparency and protections for all Canadians. Now, the B.C. Government supports a system that keeps victims out-of-mind.
As for Allan, he could be in our community at any time without the public's knowledge because the Review Board does not have the public's safety as their paramount concern. I live in the Tri-Cities and I will now live in consistent fear that he will move ahead with his threats against me, because as he has said, I am "unfinished business". Should he escape custody, there are no requirements for Colony Farm to warn the community nor get law enforcement involved in his capture. Instead, they only need to gain assistance of occupational health workers and notify Dr. Johann Brink at Colony Farm.
So what's next? I am pleading with Premier Christy Clark and Minister Anton to change their decision. Under section 672.72(2) of the Criminal Code and section 35(1) of the federal Interpretation Act, they have 15 days to file this appeal. The first day in this process being May 30th and the 15th day being June 13th. Since June 2nd and June 14th are Sundays, a holiday, the Interpretation Act indicates they have until Tuesday, June 16th to make the appeal. Please Premier Clark and Minister Anton, do the right thing – do the just thing – and file this appeal.
In addition, my family, supporters and I will continue working with Crown Council and the Federal Government to present an application to the Supreme Court of Canada to have Allan Schoenborn deemed a high risk offender. This is uncharted territory as we will be the first to use section 672.64 of the Criminal Code of Canada. Our hope is that the Supreme Court will look at the facts and find Allan a high-risk. Once this happens, his escorted leaves will be revoked and he could be held in custody for treatment for up to 36 months. This means my family and I do not have to go through another annual review for some time. This will give me time to rest, feel safe and hopefully one day heal.
Finally, I am again calling on Premier Christy Clark and Minister of Justice, Suzanne Anton, to support victims and the mentally ill by reviewing the B.C. Review Board and the operations at Colony Farms. The dysfunctional nature of the Board and Colony Farms Forensic Hospital Administration is shameful. These two entities have cultivated a culture which condones conflict of interest while ignoring public safety. This is a system screaming out for reform. Premier Clark and Justice Ministers over the last four years – up until today – have been very supportive of my family and Bill C14. Now they need to fix these two broken factions of our mental health system which neither provides proper care for the mentally ill; nor gives support to victims; nor adequately puts public safety first.
While I am disappointed with this outcome I cannot thank Crown Council Wendy Dawson enough for her thoughtfulness, professionalism empathy and tenacity. She is a true advocate for victims and public safety, and Ms. Dawson would be my choice as the one who should head up a review of Colony Farms and the B.C. Review Board.
For everyone who has supported me over the last seven years, thank-you. And thank-you for your continued support as we move forward to protect the rights of victims all across Canada.