Chilliwack – Over a week ago, a petition with over 750 signatures, was delivered to Chilliwack Mayor Ken Popove, urging council to place a rainbow crosswalk on Mill Street at Wellington. Popove was deeply moved and thanked the group Rainbow Crosswalk for Chilliwack for their efforts.
That group have been pressing the City of Chilliwack as well as businesses and naysayers to support a LGBTQ crosswalk. They say the time is now for Chilliwack to recognize the community and to start to de-stigmatize the community.
This past Monday at Eagle Landing, which is First Nations land, city crews put up not just one, but two crosswalks at the open concept mall.
Organizer Amber Price took to social media, admitting that she had to keep quiet about this project until everyone on board agreed to go public.
I'm very excited to see posts going up about the Rainbow Crosswalk in Eagle Landing.
Chief David Jimmie of Squiala has led the way for the City of Chilliwack by placing not just one but MULTIPLE crosswalks at Eagle Landing.
Now we continue with the work of having one installed in our Historic Downtown as well.
HUGE props to Chief David Jimmie. The honouring of Two-Spirited people is a beautiful thing. His leadership is incredible.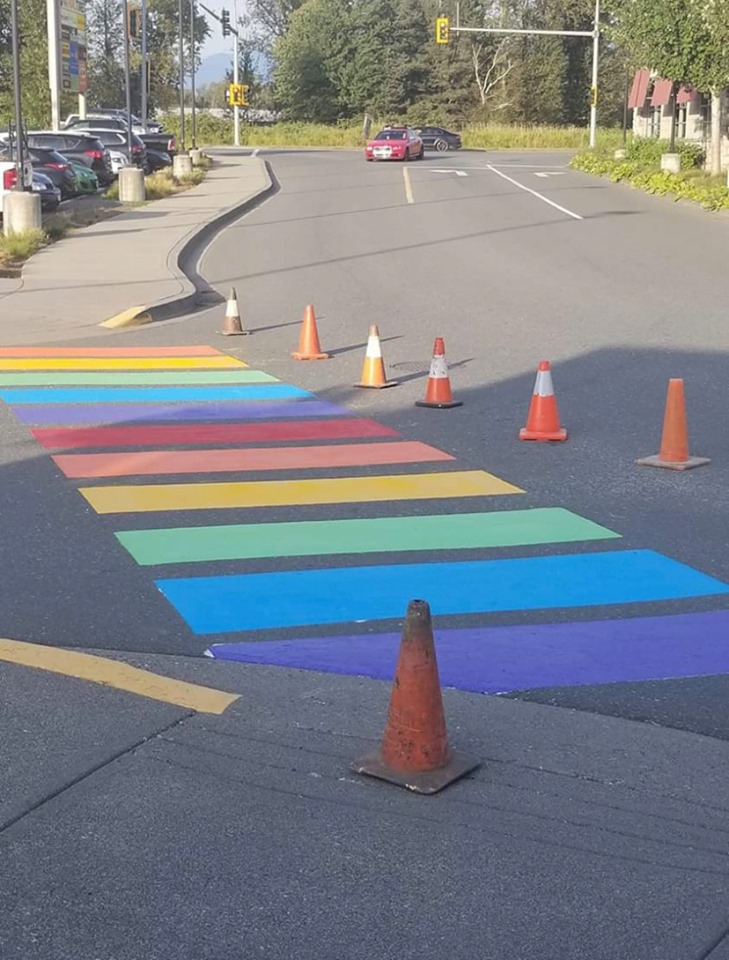 Chief Dave Jimmie of Squiala Nation wrote on Facebook –
Shayla Hall…"hey little brother, I'd like to talk to you about a rainbow crosswalk". Me…"obviously I'm in support, give me a bit of time to put some thought to a plan and let's get it done"…too much time passes and I receive many reminders (love you Shay). Okay okay, it's coming together so bare with me lol. Finally it happened today on Squiala lands as well as Tzeachten lands where we have the jurisdiction to make decisions and demonstrate our inclusive nature. We've always been taught to be accepting and not judge. Shayla…we did it 🙂
Although these are not related, it's important to recognize the important and relentless work of Amber Price…like Shayla, she demonstrates passion, commitment and hard work for what she believes in so thank you Amber and thank you Shayla.
It's important to recognize Squiala Council, our partners of Eagle Landing, Tzeachten Chief and Council and all those who support inclusion and being a part of living change…
Metis and Sto:lo Businessman Louis DeJaeger, who is openly gay, posted: "Indigenous Leaders will no doubt continue to create safe spaces for our kids." Chi-meegwetch Squiala FN & Chief Dave Jimmie!
NOW, another rainbow crosswalk was installed at the Tzeatchen /Promontory Save On Foods.
Cam Hull said: lets give credit where it is due. These wonderful expressions of support have nothing to do with Chilliwack or it's council. They are from the surrounding First Nations communities. Their councils showing leadership our's is seriously lacking.
Amber Price with Rainbow Crosswalk for Chilliwack noted on social media: "Saw this photo in Inclusion Chilliwack and could not wait to share it! As promised, here is the crosswalk from Chief Derek Epp on Tzeatchen land. Yes, all of these crosswalks were installed on Indigenous land under the forward thinking leadership of Chief David Jimmie and Chief Derek Epp. They are not connected to our efforts to have one installed in Historic Downtown Chilliwack at Wellington Avenue and Mill Street. Chief David Jimmie worked on this project for around a year, I believe, and the timing just happened to line up with our petitions and work. I am hopeful that the City of Chilliwack will see these crosswalks and expedite one on city land!
Photo by Wendy Drake Trevitt.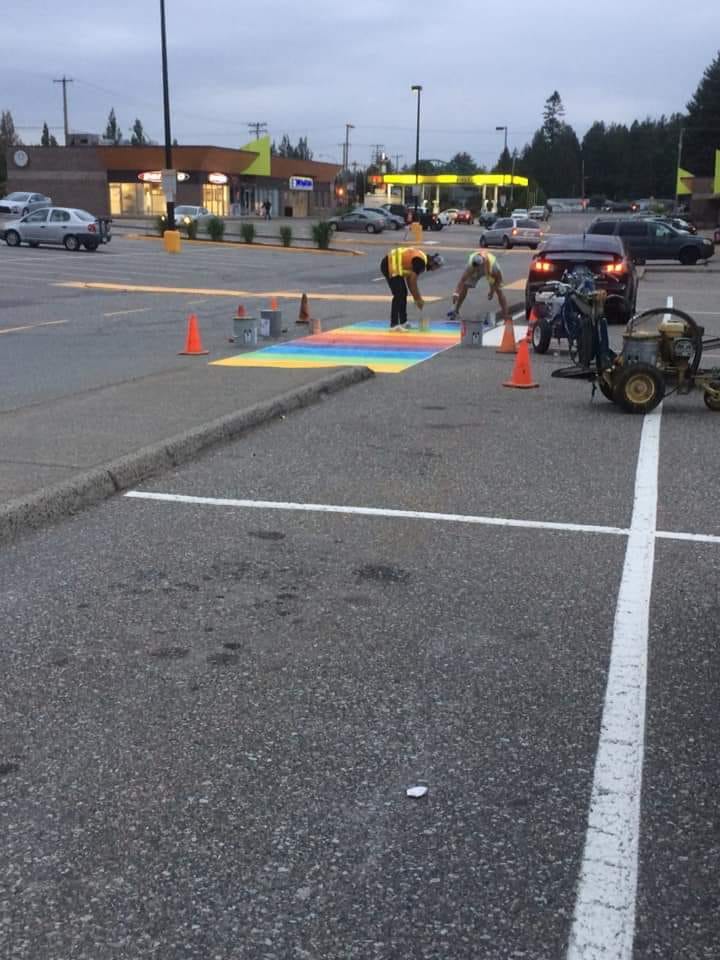 The push for the Mill Street cross walk continues.