Abbotsford/Chilliwack – Abbotsford Police, Chilliwack RCMP and local liquor stores are spreading the message school kids are sending to motorists over the Christmas Season – Don't Drink and Drive.
Paper bags collected from four local Liquor Stores by a Chilliwack RCMP officer were offered to the students of six elementary schools for their artistic statements cautioning motorists not to drink and drive. With art completed the bags were returned to the stores for circulation to consumers.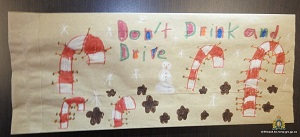 Our goal is to heighten awareness to the danger and the prevention of impaired driving in the community during the Holiday Season, said Constable Zachary Leheniuk of the Chilliwack RCMP.
Abbotsford Police are also stepping up their campaign as New Year's draws closer.
With December's CounterAttack campaign underway APD and the RCMP will also be doing their part to remove impaired drivers from roadways through enhanced traffic enforcement over the holiday season.
Plan a safe trip home:
Arrange for a designated driver.
Travel by public transit or taxi.
Stay overnight.
On New Year's Eve after 9PM Operation Red Nose drivers can be contacted at 604-393-3000 to provide a means of getting home safely.