Langley – The Rams travel to Kelowna this Sunday October 28th to play the Okanagan Sun in the Cullen Cup BCFC Championship game, kickoff is 1PM at the Apple Bowl.
This will be 9th time since 1990 that Rams and
Sun
have gone head to head in the Championship game, (years and scores at
www.langleyrams.com
) the Rams have won 6 of the 8 Cullen Cup games vs the
Sun
to date, the past three have been on the road at the Apple Bowl.
The Cullen Cup winner will host Ontario Champions in National Semi-Final the following week.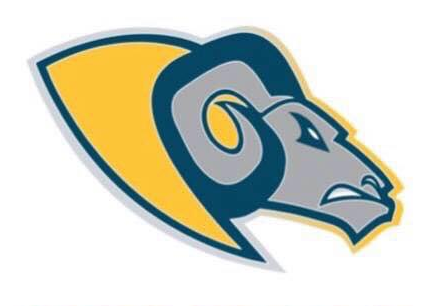 Langley Rams backup quarterback Tristen Yanciw came off the bench in place of injured starter Duncan Little to start the second quarter and went on to throw for over 400 yards and four touchdowns in the Langley Rams 37-26 BCFC Semi-Final win over the defending champion VI Raiders on Saturday.
Yanciw's favorite target was Jevon Cottoy, who caught seven passes for an outstanding 246 yards and was on the receiving end of 35, 79, 11 and 82 yard touchdown passes from the rookie pivot, who just recently turned 19.
Joe Carter kept the Raiders defense on their heels with over 100 yards rushing on 15 carries, including a clutch 31 yard effort late in the game.
Leading the way defensively for the Rams was Anthony Blackwell with a whopping 11 tackles and three batted balls, it was another day at the office for Kyle Clarot, who recorded three tackles, a pair of batted balls and an interception, Isaiah Okoli continued his stellar season with seven tackles and a batted ball and Cameron Cross chipped in with a quarterback sack.
Special teams played a huge role in the win for the Rams, Jaden Sheilan accounted for 13 points off four converts and three field goals and Jevon Cottoy made things easy for the Rams punt cover team with his high booming punts, his longest was 49 yards and he finished with a 40.1 yard average on the day. Jacob Stebbings and Ryan Barthelson were tops in kick coverage with three special teams tackles each.
Jay Jay Jackson posted a combined 101 punt/kickoff return yards, including a 60 yard punt return in the third quarter that gave Yanciw the ball on the Raiders 11 yard line and set up a touchdown.
In Sunday's BCFC Semi-Final between the Okanagan Sun and Chilliwack's Valley Huskers , the Sun punched their ticket to the final, winning 47-21.