Surrey – June 8 marks the one year anniversary of Fraser Health's SafePoint in Surrey – the first supervised consumption site in North America to be located outside downtown Vancouver.
Since opening, SafePoint has seen 1,561 people use the site 61,572 times and staff have successfully reversed more than 620 overdoses, resulting in no deaths. Just one example of the success of SafePoint lies in Curtis Carter, who accessed the service 182 times over five months and overdosed 24 times. Through his repeated interactions, he accessed treatment and is now working as a peer support worker at SafePoint four nights a week. (For more information see Backgrounder).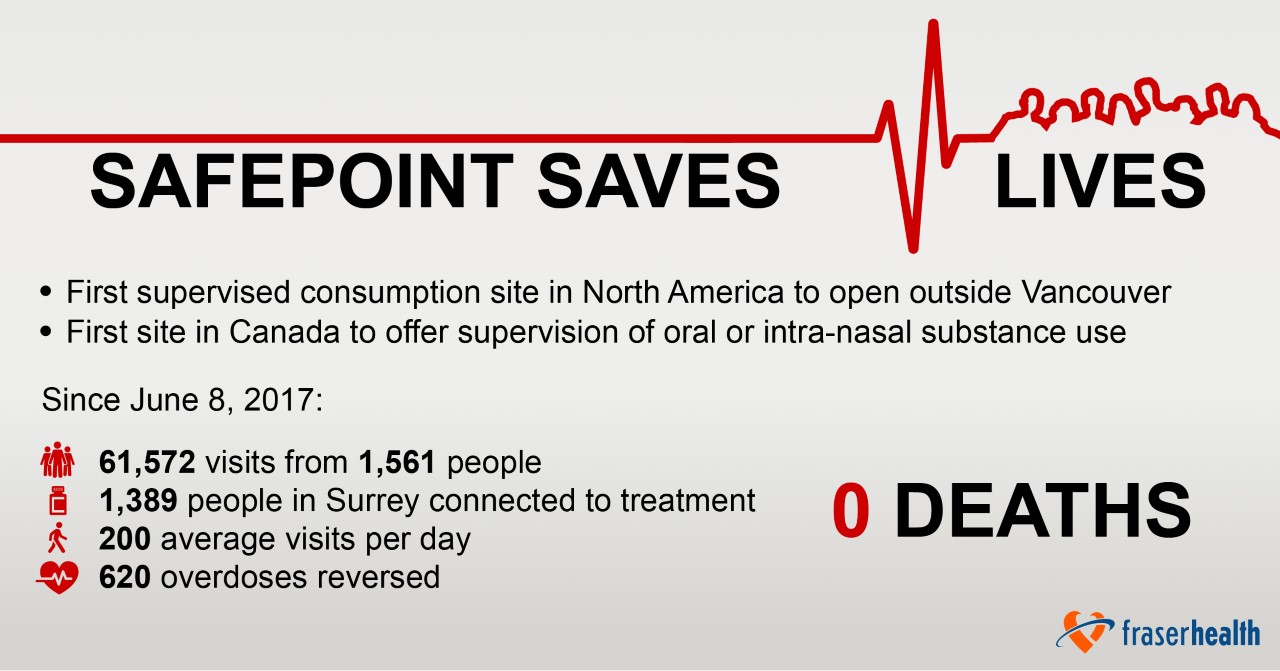 "I personally visited SafePoint last summer where I watched as staff reversed not one but two overdoses at the same time. Their compassion and commitment was truly inspiring and this was proof of the need for supervised consumption services as part of our strategy to address the overdose crisis," said Minister of Mental Health and Addictions Judy Darcy. "By providing these supports, and helping people access first-line treatment for opioid addiction, SafePoint can save lives and be the catalyst for people to take the first step forward in their recovery journey."
On average, SafePoint sees 200 visits per day. In addition to providing a space where people can inject or consume substances under supervision by oral or intra-nasal means, Fraser Health has connected close to 1,400 people in Surrey to first-line treatment for opioid addiction using medications such as Suboxone and methadone since January 2017. SafePoint staff have provided health education as well as referrals to first-line treatment and other health and social services to approximately 25 per cent of the clients who access the service. Fraser Health operates SafePoint in partnership with the Lookout Housing and Health Society.
The implementation of supervised consumption services in Surrey is part of Fraser Health's multi-faceted strategy to address the overdose emergency in the region, which includes prevention, early intervention, harm reduction and treatment. Fraser Health has distributed close to 7,600 naloxone kits in Surrey and more than 18,000 kits across the region to help reverse overdoses (as of March 31, 2018). In addition to launching Safepoint, Fraser Health has also undertaken the following initiatives in Surrey:
·       Creation of an Intensive Case Management team to help people with severe substance use disorders, and who may be mentally ill and homeless, to connect them to services, secure housing, and address their substance use, mental health and general health needs.
·       Implementation of a First Response Youth Addictions Outreach Team that provides addiction outreach services and group programming to high risk, street entrenched youth under the age of 19, naloxone training and kits to youth directly on the street, and links youth to substance use and other services.
·       Engagement with the Community Action Team in Surrey to develop and support local overdose prevention initiatives.
"In June, SafePoint opened up and I was one of their first clients. In fact, I was probably their 'worst customer.' I used at SafePoint 182 times over a few months, and I overdosed 24 times. They saved my life every time," said Curtis Carter, former SafePoint client and current peer support worker at the site. "I've overdosed 36 times in my life that I'm aware of. SafePoint is the reason why I'm still on this planet."
On June 16th, a second Surrey supervised consumption site located at Quibble Creek Sobering and Assessment Centre, will also have been open for one year. Quibble Creek provides supervised consumption services exclusively to clients of the centre, seven days a week.
For more information about what Fraser Health is doing to address the overdose emergency, please visit fraserhealth.ca/overdose.