Oakville/Chilliwack —  With only a few days left, Chilliwack residents and their four-legged "best friends" are preparing to walk together for the May 27th Pet Valu Walk for Dog Guides.
Registration will begin at 12:00 p.m. with the Walk starting at 1:00 p.m. at Edwards Crossing (45955 Yale Road in Chilliwack, across from Mr. Lube)
To register, visit www.walkfordogguides.com. Dogs are welcome to participate, but you do not need one to join.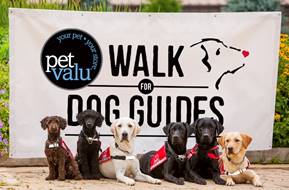 Held annually, the Walk has raised more than $15 million to-date. Thanks to the generous support of our national sponsor Pet Valu and local businesses, 100 per cent of the funds raised by each walker will go directly towards our six Dog Guide programs:
·      Canine Vision Dog Guides, for people who are blind or visually impaired
·      Hearing Dog Guides, for people who are deaf or hard of hearing
·      Service Dog Guides, for people with a physical disability
·      Seizure Response Dog Guides, for people who have epilepsy
·      Autism Assistance Dog Guides, for children (aged 3-12) on the autism spectrum
·      Diabetic Alert Dog Guides, for people who have type 1 diabetes with hypoglycemic unawareness
While each Dog Guide costs an average of $25,000, they are provided free of charge to qualifying Canadians. Lions Foundation of Canada Dog Guides receives no government funding and relies solely on donations from individuals, corporations, and fundraising activities. This is why the Pet Valu Walk for Dog Guides is so important.