Fraser Valley – A recent incident is a great reminder for boaters to navigate the region's waterways this summer. the May Long Weekend is almost here and with the great weather, everyone wants to have some aqua-fun.
On April 28, Kent Harrison Search and Rescue (KHSAR) were activated by Agassiz RCMP in response to a report of boaters stranded on an island in Harrison Lake.
When water conditions became dangerous the boaters did the right thing by taking refuge while calling for assistance, said Corporal Mike Rail spokesperson for the UFVRD.
The family of 5 were quickly located and returned to safety by KHSAR.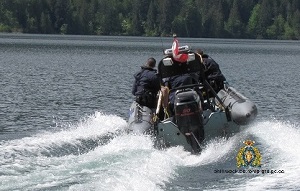 Some safe boating tips:
 Wear Personal Floatation Device (PFD) or lifejacket.
 When boating – alcohol and water don't mix.
 Prepare before you sail.
 Let someone know where you are going and when you expect to return.
For more simple safety tips while on the water visit us online at bcrcmp or Transport Canada's safe boating website.