As the Province responds to ongoing flooding, and in advance of the 2018 wildfire season, government is acting on some of the recommendations in the report, Addressing the New Normal: 21st Century Disaster Management in British Columbia, announced Doug Donaldson, Minister of Forests, Lands, Natural Resource Operations and Rural Development.
In the 2018 NDP/Green Budget, Victoria is committing $50 million over three years to wildfire prevention and wildfire risk reduction around communities.
The 2017 wildfire season in British Columbia set records as the most destructive in the province's recorded history. The cost of fire suppression last year was $562.7M. The previous record was $382 million in 2009.  The current government is taking heat that they grossly underestimated the potential cost for this year.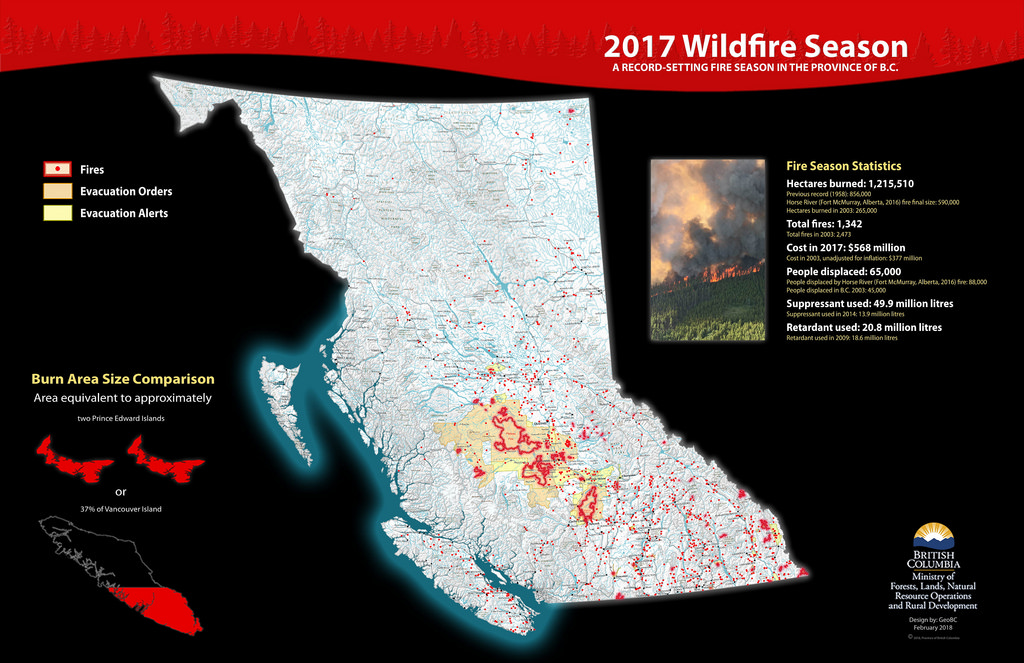 As a result of internal reviews undertaken by both the BC Wildfire Service and Emergency Management BC, 19 of the 108 recommendations in the report are being implemented. Some of the recommendations also align with work that the Province is doing with the federal government and other provinces, under the Canadian Wildland Fire Strategy, and other mitigation and preparedness programming, particularly related to flooding and seismic risks. However, the majority of recommendations are longer term in nature, and may require legislative changes or involve other levels of government.
One of the major themes of the report was to develop closer relationships with First Nations, and that work is already underway with the recent signing of a collaborative emergency management agreement between Canada, British Columbia and the Tsilhqot'in National Government. As well, the BC Wildfire Service is hiring more staff to support partnerships with Indigenous communities and stakeholders.
The BC Wildfire Service will also be working with the Union of British Columbia Municipalities and First Nations' Emergency Services Society on a review of how the Strategic Wildfire Prevention Initiative (a program that provides support to communities for fuel management projects) is funded, and how it can be integrated with other land-based wildfire prevention and wildfire-risk reduction investments.
Another timely recommendation being acted on is the need to make household emergency preparedness easier for British Columbians. To that end, Emergency Management BC has partnered with Save-On-Foods and London Drugs on the new "Get Good and Ready" emergency preparedness program, now available throughout the province. Emergency Management BC and its partners have also developed emergency management toolkits for Indigenous communities, which have been widely distributed.
"Being prepared and planning ahead is paramount to protecting public safety, and ensuring the economic health of our communities," said Mike Farnworth, Minister of Public Safety and Solicitor General. "Having an independent and comprehensive review of our actions after major events can only help us be better prepared in the future."
Government will develop an action plan to address the report's recommendations by Oct. 31, 2018.