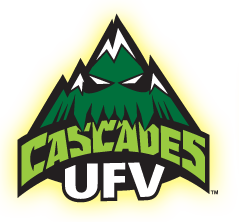 GOLF: Campbell, Bardock lead Cascades to strong showing at UFV Spring Invitational
The University of the Fraser Valley golf program's spring schedule is bookended by tournaments at their home course, and the Cascades can only hope that the way they started is a sign of things to come.
The Cascades claimed three of the four individual and team titles up for grabs at the UFV Spring Invitational, held Saturday and Sunday at Chilliwack Golf Club.
The tournament featured entries from the UBC Thunderbirds, Victoria Vikes, MacEwan Griffins and Langara Falcons, along with the host Cascades and the Skagit Valley College Cardinals of Mount Vernon, Wash.
On the men's side, the Cascades' Daniel Campbell fired rounds of 69 and 66 to finish three strokes clear of UVic's Lawren Rowe (74-64=138) for the individual victory while leading the home side to a team title by the narrowest of margins. UFV's two-round combined score of 578 was just a single stroke better than the Vikes' 579, with UBC taking third place at 590.
UFV's Kyle Claggett (72-71=143) and UVic's Bruce Tomie (72-71=143) tied for third place individually.
On the women's side, Emery Bardock gave the Cascades a sweep of the individual titles, carding rounds of 76 and 74 for a two-stroke margin over UBC's Kelly Hellman (77-75=152). In a three-way tie for third at 153 were the T-Birds' Kate Johnston and Cecile Kwon, and UVic's Cadence Hellmann. Each of the three shot 77 on Saturday followed by a 76 on Sunday.
In the women's team competition, UBC's two entries finished first and second overall. Hellman, Johnston and Rebecca Kuik were the winners with a combined score of 305, edging their teammates by a single stroke. UFV and UVic were close behind, tied for third at 308.
The UFV Spring Invitational is a precursor to the Canadian University/College Golf Championship, a Golf Canada event which will be hosted by the Cascades at Chilliwack Golf Club May 29-June 1.
"In a showcase for what we're going to see in a couple months at the Golf Canada championships, it's great to see our strong team play from the fall carrying over into the new year," said Cascades head coach Chris Bertram, whose men's and women's teams swept the CCAA national gold medals in October.
The next tournament for the Cascades men's and women's teams is the Walla Walla (Wash.) University Invitational, March 26-27.
Rowing: Host Cascades excel at Head of the Fort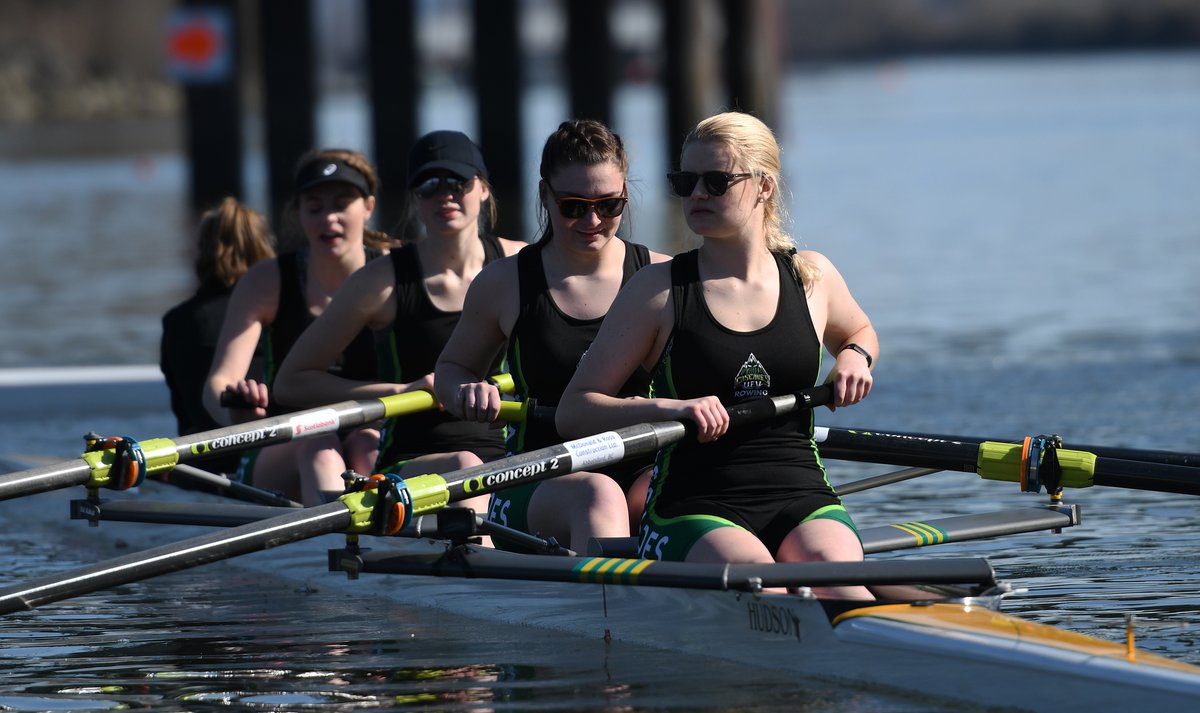 On a picture-perfect day in Fort Langley, the University of the Fraser Valley rowing club turned in a series of strong performances as it hosted the Head of the Fort.
The 10th annual edition of the Cascades' home regatta was not only blessed by sunny skies, but by ideal conditions on the Bedford Channel waterway.
"The weather made such a difference, but it was also the water," UFV head coach Liz Chisholm enthused. "Racers came up to me afterwards and said the water was so smooth. There wasn't much tidal movement.
"When people have conditions like that and feel like they can race their best, they're happy. That's what they come to do."
Highlights for the Cascades included a first-place finish (by raw time) for Erin Steele in the women's single (29:08.96) and a third-place result for Mitchell Wierks and Clayton DeVries in a crowded men's double field (25:22.41).
Chisholm noted that Steele's performance was significant as it was just the second time she'd competed in the single – the first being the previous weekend at the Elk Lake Sprints in Victoria.
"I was incredibly impressed," Chisholm said. "I know a few people in that race that Erin beat – people who have competed internationally. They're older, but they're still fast.
"And Clayton and Mitchell, they didn't feel like they had a very good row, but they beat everyone in terms of raw time. When they looked at the result, they went, 'Wow.'"
UFV's second entry in the men's double, Kyle Fischer and Andrew Stahl, took sixth place in a time of 25:50.84.
In the women's double, Genelle Grubb and Angelica Evans were fourth out of eight, clocking in at 29:36.70.
In the women's four, the UFV entry featuring Serene Blanchard, Julia Siemens, Amy Driegen, Jayme Reitsma and coxswain Genelle Grubb finished third (28:29.57). In the novice women's four, Tasha Short, Aneesha Narang, Shivohn Peters and Michelle Olive took second place (29:27.79).
Additionally, a men's eight boat stocked with UFV alumni traversed the 6.5-kilometre course in 25:13.46.