Abbotsford – The PACWEST men's and women's volleyball championships take centre stage at the Envision Financial Athletic Centre this week, launching a three-day run at the University of the Fraser Valley's Abbotsford campus starting Thursday.
It's the first time that UFV has played host to the conference's post-season volleyball tournament. The Cascades men's and women's teams are both in the field, and will chase CCAA national championship berths on their home court.
"It's exciting," Cascades men's head coach Kyle Donen enthused. "Showcasing our team and what we can do in our home gym is great, but I also think it's a great opportunity to showcase our facility, and what this area is like for volleyball and for sport in general."
"Over the three years that I've been doing this job, I've watched our home crowd grow, and I think that's in large part due to the local talent that we've got," said Mike Gilray, UFV's women's volleyball head coach. "These athletes have really energized our crowd, and they've brought out some great fans. The energy in our gym is awesome, and we get excited to play here. We're definitely excited."
The Cascades women's volleyball team was No. 7 in last week's CCAA national rankings, and they're the No. 3 seed for the PACWEST championships. They open the conference tourney at 6 p.m. Thursday, taking on the No. 6-seeded College of the Rockies Avalanche. UFV won three of four head-to-head match-ups with the Avalanche this season.
The Cascades men are seeded No. 4, and they face the No. 5 Douglas Royals in the quarter-finals on Thursday at 8 p.m. The two teams have a bit of recent playoff history between them – Douglas knocked off UFV in the bronze medal match at last year's PACWEST tourney. The Cascades, though, have gone 3-1 against the Royals this season.
Donen said that earlier results don't mean much going into a single-elimination game.
"I think the guys are pumped about the opportunity to rectify what happened last year – it wasn't the finish we wanted," Donen said. "We know it's going to be a high-energy, emotional match. We're excited to do battle with a team that we've had some great matches against this year."
There are a combined three CCAA national championship berths up for grabs this week. Two of those are on the women's side – the top two finishers will qualify for the CCAA championship, hosted by Alberta's Grande Prairie Regional College, March 7-10.
On the men's side, the PACWEST's Camosun Chargers are hosting the CCAA tournament (also March 7-10) and since they're already guaranteed a spot in the field, there's just one additional berth available this week.
A complete PACWEST tournament schedule, including team seedings and regular-season records, is below: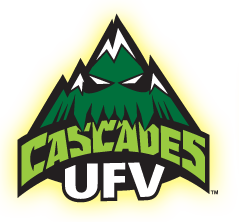 PACWEST MEN'S AND WOMEN'S VOLLEYBALL CHAMPIONSHIPS – SCHEDULE
All games at the Envision Financial Athletic Centre
THURSDAY, FEB. 22 – QUARTER-FINALS
1 p.m. | WVB | No. 4 Capilano Blues (13-11) vs. No. 5 Columbia Bible College Bearcats (11-13)
3 p.m. | MVB | No. 3 Camosun Chargers (13-11) vs. No. 6 College of the Rockies Avalanche (5-19)
6 p.m. | WVB | No. 3 UFV Cascades (13-11) vs. No. 6 College of the Rockies Avalanche (7-17)
8 p.m. | MVB | No. 4 UFV Cascades (12-12) vs. No. 5 Douglas Royals (11-13)
FRIDAY, FEB. 23 – SEMIFINALS
1 p.m. | WVB | No. 2 Vancouver Island University Mariners (18-6) vs. UFV/COTR winner
3 p.m. | MVB | No. 2 Capilano Blues (19-5) vs. Camosun/COTR winner
6 p.m. | WVB | No. 1 Douglas Royals (21-3) vs. Capilano/CBC winner
8 p.m. | MVB | No. 1 Vancouver Island University Mariners (20-4) vs. UFV/Douglas winner
SATURDAY, FEB. 24 – MEDAL MATCHES
1 p.m. | WVB | Bronze medal match
3 p.m. | MVB | Bronze medal match
6 p.m. | WVB | Gold medal match
8 p.m. | MVB | Gold medal match