Women's Soccer: Carruthers's goal, Harold's saves pace Cascades past Dinos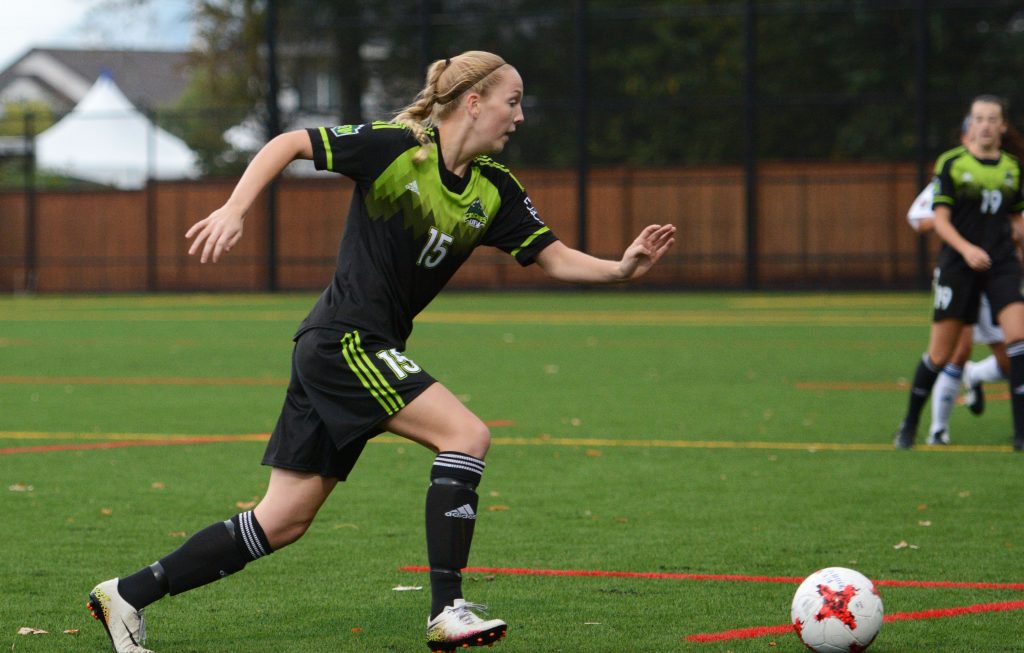 The University of the Fraser Valley women's soccer team authored a highly impressive bounce-back performance on Sunday afternoon, knocking off the Calgary Dinos 1-0 on the road.
Twenty-four hours earlier, the Cascades had struggled mightily in a 5-0 loss to the Lethbridge Pronghorns. On Sunday, Amanda Carruthers's goal in the 13th minute and a 10-save shutout from goalkeeper Emily Harold highlighted the first victory of the Canada West regular season for UFV (1-2-1).
"As a coach, I was looking forward to how our players would respond, because I could see in their eyes that they weren't satisfied with their performance yesterday," Cascades head coach Rob Giesbrecht said. "We showed great character and determination, and we held a very good opponent at bay."
Carruthers and Brittney Zacharuk linked up to open the scoring in the early minutes. Fifth-year forward Carruthers – a Calgary product – won the ball and got it to Zacharuk, and she sent a through ball for Carruthers to run onto. Carruthers slotted home a bottom-corner shot as she entered the penalty area for her third goal of the season.
The Dinos (1-2-1) were coming off a signature win on Saturday, 3-0 over the Trinity Western Spartans. They tested the Cascades' defence throughout, attempting 20 shots compared to 10 for UFV, and directing 10 of those on target.
But the Cascades' backline, featuring Karlee Pedersen, Simi Lehal, Jasmine Mangat and Kelsey Mitchell, held up well under pressure, and Harold also sparkled in what Giesbrecht termed a "fantastic" performance. Her most noteworthy stop came in the 77th minute, when she snared Montana Leonard's well-taken free kick.
Giesbrecht also lauded the leadership of third-year midfielder Zacharuk, who battled through an injury to give her team 64 gritty minutes.
"We were just more mature (than yesterday) in our approach to the game, and our girls were in a better mindset," Giesbrecht said. "We're a young team and we're banged up, so we're going to learn tough lessons like yesterday. It's so encouraging to see the girls respond to some adversity. Calgary is a very good team – they're so athletic and fast, and they were coming off a big win. I can't say how proud I am of the girls."
The Cascades are back in action on the road next week, taking on the MacEwan Griffins on Friday and the UNBC Timberwolves on Sunday.
GOLF: Bardock leads Cascades women to victory, men's team second at UBCO tourney
The University of the Fraser Valley golf teams opened the PACWEST season with a strong collective performance at the UBC Okanagan Invitational at Okanagan Golf Club on the weekend.
Emery Bardock set the tone for the Cascades, winning the women's individual title and pacing the Cascades women to a dominant victory in the team competition. The first-year Cascade from Armstrong, B.C. carded rounds of 77 and 78 to finish nine strokes ahead of teammate Hannah Dirksen (85-79=164). UFV's Maddie Kapchinsky (92-81=173) was fourth.
The UFV women are in search of their fourth PACWEST crown in five seasons, and they're well on their way after a two-round team score of 319, which gives them a comfortable margin on the UBCO Heat (347) and Vancouver Island University Mariners (404).
"I was really impressed with how Emery played," Cascades head coach Chris Bertram said. "She's obviously got the kind of game that can win on any given week, and it was really nice to see her get her first win as a Cascade."
On the men's side, UFV finished second overall with a two-day cumulative score of 579, seven strokes in arrears of the host UBCO Heat. The two-time defending conference champion Camosun Chargers were third at 598.
The Cascades' top finisher was Daniel Campbell – the Bellingham, Wash. product who transferred to UFV over the summer from Skagit Valley College wasn't part of the five-man team roster but was competing as an individual. He followed a first-round 75 with an impressive 66 on Sunday to finish at 141, tied for third place behind Jacob Vanderpas of the Langara Falcons (75-61=136) and James Casorso of the UBCO Heat (72-68=140).
The Cascades' Halen Davis (73-69=142), Ben Whiton (70-73=143) and Zach Olson (72-73=145) finished fifth, sixth and seventh, respectively, giving UFV four of the top 10 in the field. Kyle Claggett (79-72=151) was 17th overall, and Cole Briggs (77-75=152) tied for 18th.
"The first week is always interesting to see what the other schools are going to have, and it's clear that this year UBC Okanagan is going to be the team to beat," Bertram said, handicapping the men's field. "We're going to have to play well if we're going to surpass them. If we continue to play the way I know we can, I'm confident we can do that."
One of the highlights of the weekend for Bertram was a memorable Sunday performance by a non-Cascade. Langara's Vanderpas, the defending PACWEST men's individual champ, shot a scorching 61, including a bogey-free nine-under on the front nine. Bertram was watching closely, as UFV's Whiton was in the final group with Vanderpas. After hitting his first tee shot into the trees, Vanderpas managed to save par, then reeled off seven straight birdies and an eagle to cap the front nine. Two more birdies on the back nine, to go with seven pars, filled out his scorecard en route to 11-under on the day.
"It was maybe the most remarkable golf performance I've ever seen," Bertram marveled. "We don't have a record book for golf, but that's got to be a PACWEST and CCAA record. (Cascades alum) Connor O'Dell once shot a 63 in a tournament, and I've never heard of anything close to that."
The Cascades hop on the ferry this coming weekend to participate in the second of four PACWEST tourneys – the VIU Invitational at Morningstar Golf Club in Parksville.