Langley- The Vancouver Giants released the schedule for their 2016 Training Camp, presented by Hyundai, on Tuesday. The club also released the list of players that will be attending main camp.
Giants' Training Camp will run from
August 26-31
at the Ladner Leisure Centre.
On ice sessions are open to the public.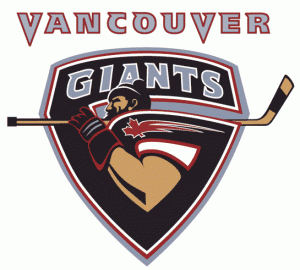 Head Coach Jason McKee will take charge of the Giants for his first training camp in Vancouver while Captain Tyler Benson is back for his 18-year-old season as he comes off being selected by the Edmonton Oilers in the second round of the NHL Draft. Last season's leading goal scorer, Ty Ronning, was also taken in the draft, going to the New York Rangers in the seventh round, while goaltender Ryan Kubic will look to build off his strong rookie campaign, and veterans Thomas Foster, Dmitry Osipov and Brennan Menell are back again, hoping to lead the Giants to a strong 2016/17 season.
As always, camp will conclude with the annual Alumni Challenge Intrasquad Game on
August 31st at 7:00pm
.
Players attending the Giants' Rookie Camp, which runs from
August 23-25
, will also have a chance to join the Main Camp rosters. Details on Rookie Camp can be found
here
.
Vancouver Giants Training Camp Schedule (subject to change)
9:00-10:00am
– Team A Practice
10:30-11:30am
– Team B Practice
6:00pm
– Team A vs. Team B
9:00-10:00am
– Team B Practice
10:30-11:30am
– Team A Practice
6:00pm
– Team A vs. Team B
9:00-10:00am
– Team A Practice
10:30-11:30am
– Team B Practice
6:00pm
– Team A vs. Team B
9:00-10:00am
– Team B Practice
10:30-11:30am
– Team A Practice
9:00-10:00am
– Team A Practice
10:30-11:30am
– Team B Practice
6:00pm
– Team A vs. Team B
10:00-10:45am
– Team Howe Morning Skate
11:00-11:45am
– Team Quinn Morning Skate
7:00pm
– Alumni Challenge Game – Team Howe vs. Team Quinn
Vancouver Giants Training Camp Attendees (subject to change)
Alec Baer
Matt Barberis
Tyler Benson
Radovan Bondra
Brayden Brown
Tyler Brown
Tristyn DeRoose
Bailey Dhaliwal
Jack Flaman
Thomas Foster
Owen Hardy
Dawson Holt
Marcus Kichton
Ryan Kubic
James Malm
Ryely McKinstry
Brennan Menell
Dmitry Osipov
Dylan Plouffe
Gage Ramsay
Ty Ronning
Brendan Semchuk
Johnny Wesley