Victoria/Mission – Visitors soon will have more camping opportunities in the Mission area with the construction of 60 new campsites in time for the upcoming camping season.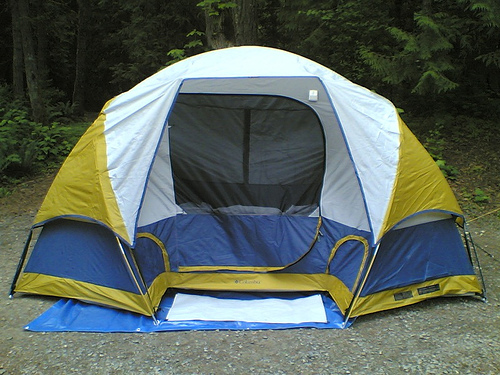 These brand-new recreation sites will be in the Stave West Forest and Recreation Area in the Mission Interpretive Forest near the Stave reservoir.
This project is jointly funded by the Province and District of Mission with support from Kwantlen First Nation. It has been developed through collaborative efforts by the Province, the District of Mission and Kwantlen First Nation as part of the Stave West Master Plan, a collaboration to develop new tourism, recreation, economic development and education through partnerships that complement the activities of a sustainable working forest.
The Stave West Forest and Recreation area has been recognized by Aboriginal Tourism BC as a demonstration project and through the Kwantlen First Nation has been given a name in the Halq'emeylem language of Mekw̓ wa't a'xwest ikw̓elo', meaning "everyone shares here."
This project is the first phase of the intended expansion of three new recreation sites with over 120 campsites in the Stave West Forest and Recreation Area.
The new campsites are also among the first phase of the 1,900 new campsites announced by Premier Christy Clark in November 2016 as part of the BC Parks Future Strategy as part of the Province's commitment to public recreation opportunities. Campsite expansion is occurring in all regions of the province, and the majority will be where demand is greatest – in the Kootenays, Okanagan, the Lower Mainland and Vancouver Island.
In addition to 60 new campsites at Stave West — Phase 1 of the planned expansions in this area – additional new campsites, which will be available for the 2017 camping season, include:
Blanket Creek Provincial Park near Revelstoke – 58 sites
Halfway Hot Springs Rec Site near Nakusp – 20 sites
Six Mile Bay Rec Site near Mackenzie – 20 sites
Okanagan Lake South Provincial Park near Summerland – eight sites
Badger Lake Rec Site near Heffley – 30 sites
Scuitto Rec Site  near Kamloops – 17 sites
Garibaldi Provincial Park near Squamish – 20 sites
Chek Canyon Rec Site near Squamish – 32 sites
Desolation Sound Provincial Park near Powell River – 34 sites
Goldstream Provincial Park near Victoria – four sites
Pye Mountain Rec Site  near Sayward – 20 sites
Maple Grove Rec Site near Lake Cowichan – 22 sites
Rathtrevor Provincial Park near Parksville – 30 sites (Phase 1)
The new campsites are a mix of BC Parks and Recreation sites, which support maintaining a range of camping opportunities (rustic and less rustic) in the highest-demand areas.
The majority of the new BC Parks campsites will be available for reservation via the Discover Camping Reservation Service. To reserve your spot, please visit: https://secure.camis.com/DiscoverCamping/ReservationService.aspx
Recreation sites are available on a first-come, first-served basis.
As part of the BC Parks Future Strategy, the Province is investing up to $22.9 million to add more than 1,900 new campsites over five years. More than 800 of the new sites will be in provincial parks, while more than 1,000 will be in recreation sites.
Additional campsites will be announced as expansion plans continue.
The Province also recently announced a new investment of $35 million over the next three years as part of the BC Parks Future Strategy. The funding will result in 28 more full-time park rangers, new programs to promote and protect the environment, and $10 million as an initial endowment to the new BC Parks Foundation.
Marc Dalton, MLA for Maple Ridge-Mission –
"This is a great partnership between the Province, the local community and the Kwantlen First Nations to expand camping opportunities in Mission. I'm pleased family and friends will have more opportunities to camp here in the beautiful District of Mission."
Mayor Randy Hawes, District of Mission –
"We are proud to be working with the Province and the Kwantlen Nation to provide our citizens and visitors with more opportunities to enjoy the Stave West Forest and Recreation Area, Mission's Interpretive Forest. These campgrounds represent a  significant step forward in advancing the vision for the area as a destination for family friendly outdoor tourism, recreation, and learning."
Quick Facts:
BC Parks manages the third-largest parks system in North America behind the United States National Park Service and Parks Canada.
British Columbia has the highest percentage of its land base dedicated to protected areas of all provincial Canadian jurisdictions.
British Columbia offers a range of camping experiences in provincial parks as well as recreation sites.
Recreation Sites and Trails currently manages 10,400 campsites in 1,500 recreation sites.
Over the past five years, the Province has invested approximately $60 million in park facilities, delivering projects directed at attracting young families, offering new recreation opportunities and increasing attendance.
Learn More:
To read the BC Parks Future Strategy, please visit: http://www.env.gov.bc.ca/bcparks/future/
The Province recently announced changes to the Discover Camping Reservation Service for the 2017 season, which aim to improve fair access for everyone. For more details, and to book your next trip, please visit: http://www.env.gov.bc.ca/bcparks/reserve/
To learn more about BC Parks: http://www.env.gov.bc.ca/bcparks/
To learn more about the Ministry of Forests, Lands and Natural Resource Operations' Recreation Sites and Trails: http://www.sitesandtrailsbc.ca/default.aspx