Fraser Valley – Some 200 doctors at hospitals in the Fraser Health umbrella want all non essential businesses closed.
Dr. Gerald Da Roza says he has support from not only his department at Royal Columbian Hospital as well as Burnaby Hospital Department of Medicine, Chilliwack General Department of Medicine and Surrey Memorial Hospital Department of Medicine.
Dr. De Roza is concerned people are not taking social distancing seriously. Even 25 people getting together is too much. He said he knows of a case where four or five people met up and now are likely #Covid_19 positive.
This is a portion of the letter: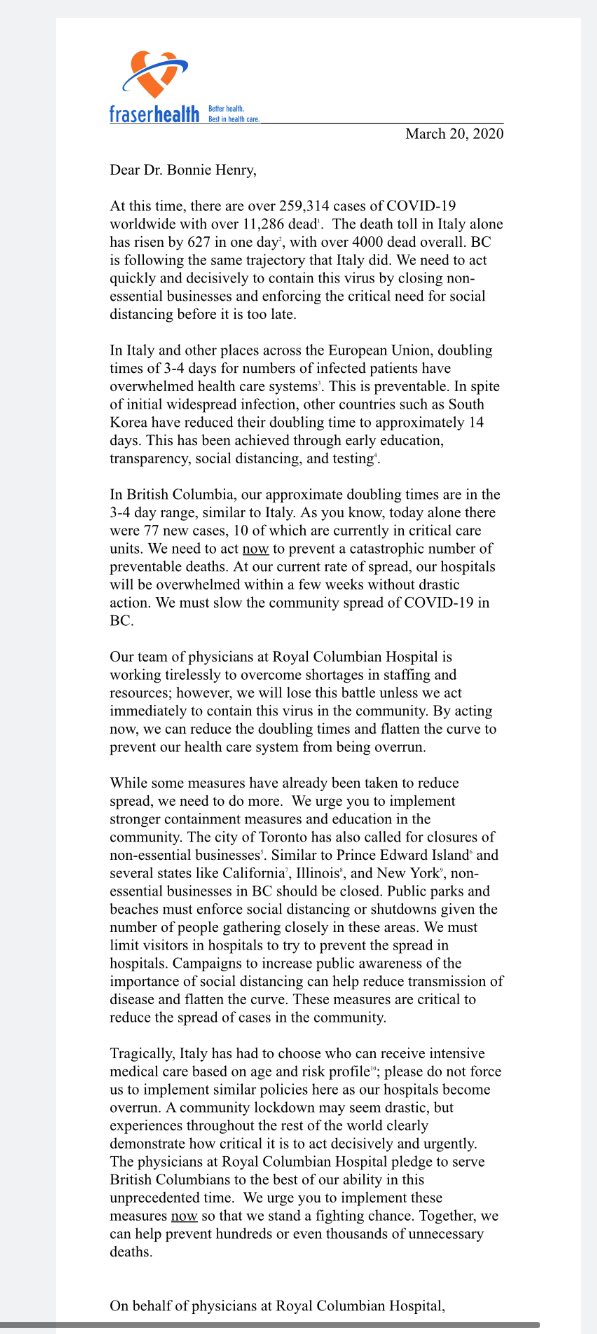 Doctors of BC President Dr. Kathleen Ross asks BC Doctors to stand behind the one leading voice – Dr.Bonnie Henry:
Our colleague and Provincial Health Officer, Dr Bonnie Henry, has been very clear in her direction on COVID-19. The time is now. The public must self-isolate and maintain social distance in accordance with her orders. What they do today will impact the health and perhaps the fate of British Columbians in the next weeks and months. As physicians it is crucial that we are united in providing the public with clear guidance. We need to amplify Dr Henry's message. During these times of crisis, adhering to the public health direction as the single source of truth is imperative. The truth is that self-isolation and maintaining social distance will save lives. Today, I am asking all of you – as physicians who care deeply about your patients, their families, and your communities – to help get this message out. It is especially important at a time when we continue to see some of our younger people congregating and socializing, putting not just themselves at risk, but their parents and grandparents. What can you do?
Email your patients, and remind them to self-isolate and to encourage their children to do the same.
Take to social media. Let's get hundreds of physicians in BC out on Twitter, Instagram and Facebook this week using the hashtags #stay_home #BCdocs
Groups of physicians could connect with your local media.
Think of other innovative ideas to get the message out, e-mail us at communications@doctorsofbc.ca (link sends e-mail) and we will share them.
I know that many of you are feeling overwhelmed, so we have made this as easy as possible. Below you will find some written materials and messaging to get you started. As physicians, we hold a privileged place of trust with our patients and the public. We have an opportunity to make a real difference, to save lives. I encourage you to do what you can to help. For questions or comments, please e-mail covid19@doctorsofbc.ca (link sends e-mail).
FVN/chillTV reached out to Fraser Health for their take:
Dixon Tam, Fraser Health Public Affairs :
We are aware of the letter to Dr. Bonnie Henry and welcome and feedback from our physicians.
We have strong measures in place but we know this is an evolving issue that we need to be nimble and responsive to.
As Dr. Henry said, we agree that we need to make sure we're doing everything we can and we believe the measures we're doing equate to what they are asking for.
There are still some problems and concerns. It is important for people to get outside but do it with your family, do it with people you live with and maintain distance from others.
We look forward to working together with our physicians to respond to this pubic health pandemic.