Richmond/Delta/New Westminster – DECEMBER 12 UPDATE – Unique to Western Canada, a moveable barrier system with a zipper truck is about to make its debut on the Alex Fraser Bridge to make this key crossing safer and faster for commuters.
This innovative type of counterflow improves capacity on the bridge and eliminates potential for cross-over collisions during counterflow, as traffic is continually separated by barriers. The system is in the testing phase and expected to be in place for drivers sometime in mid-December 2019.
Ravi Kahlon, MLA for Delta-North, on behalf of Claire Trevena, B.C.'s Minister of Transportation and Infrastructure, hosted a preview of the zipper truck in action near the weigh scale at Nordel Way on December 12.
The extra lane will be in place for northbound traffic every weekday from 4:30 a.m. to 11:30 a.m. to help ensure a more efficient and consistent travel time during the morning commute. Outside of these hours, the fourth lane will be open to ease congestion for southbound traffic.
Similar "zipper lanes" are in use in San Francisco on the Golden Gate Bridge as well as in San Diego.
SEPTEMBER 14 ORIGINAL STORY – Similar to a San Diego interstate and the Golden Gate Bridge in San Francisco, the Alen Fraser Bridge is about to get a road zipper to help with traffic flow.
The Alex Fraser Bridge opened in 1986. It was built to meet the growing traffic demand and was originally designed to allow for the number of lanes to be increased. This reconfiguration will accommodate a seventh lane, so our Greater Vancouver landmark can continue to serve road users for the next 50 years.
When the bridge first opened, only four of the six lanes were used for traffic with the two outer lanes reserved for pedestrians and cyclists. In 1987 pedestrians and cyclists were moved to the perimeter of the bridge and 6 lanes were opened to accommodate increased traffic demand. Over 30 years later, the bridge now carries an average of 119,000 vehicles each day.
BC transportation has released a video of how a "road zipper" will change lane configuration for rush hour traffic.
As of Saturday, Drivers are advised that an additional lane is now open on the Alex Fraser Bridge.
Four lanes are available for southbound traffic, with three lanes remaining for northbound.
Work continues on the intelligent transportation signs needed for the counter-flow operation, and the ministry expects the zipper truck-barrier transfer system to be in place later this fall.
Lane Configuration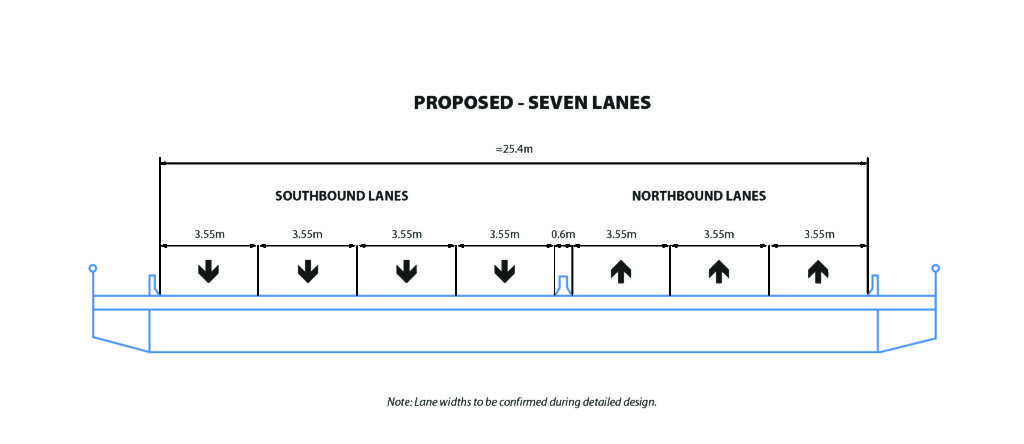 The additional lane and new moveable barrier will allow for four lanes northbound and three lanes southbound during the morning rush hour. Four lanes southbound and three lanes northbound will be open at all other times.
The seventh lane will be added by reconfiguring the six existing lanes and removing the shoulders. The speed limit will be reduced from 90 to 70 kilometres per hour to accommodate the additional lane. Cyclist and pedestrian access is not affected.