Fraser Valley – On the heels of the BC CDC Centre for Disease Control, last week issuing a warning about fake Xanax on the street, just in time for January's Welfare Wednesday, comes another warning.
On Thursday, Fraser Health's Harm Reduction Team issued an overdose alert.
The alert is related to " opioid substances with a pink/peach or green colour to it, the alert notes, also indicating an "almost immediate loss of consciousness" and a "high risk of overdose (OD) even from smoking."
This past weekend, after the Welfare Wednesday, FVN learned of at least two OD deaths in Chilliwack. On Wednesday at a CHC Chilliwack Healthier Communities seminar in conjunction with Fraser Health, it was noted that at the same time of the sad news from Chilliwack, there were another five OD deaths in Abbotsford. FVN also learned from recovery insiders that there is a major concern for a new batch of carfentanyl on the streets. Fraser Health is not commenting on those numbers.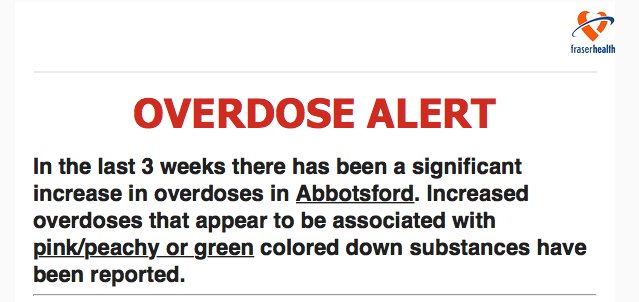 In a perfect world, Fraser Health would like to see addicts use with a buddy to keep an eye on them, but those in the recovery community will be the first to tell you, most addicts use alone.
Tasleem Juma told FVN: "Over the past three weeks our community partners have observed an increase in the number of overdose events in Abbotsford. This includes BC Emergency Health Services and the hospital, as well as anecdotal reports from our network of community service providers and people who use drugs themselves."
Combined, the concerns led us to issue the alert.
We are reminding people if they plan to use drugs:
· Use less than you normally would
· Do a tester; try a little before your regular amount
· Try not to use alone, and if you do, have someone check on you
· Stagger use with friends so someone can respond if needed
· Know the signs of overdose (early signs may include unusual snoring, or taking less than 1 breath every 5 seconds)
· Call 9-1-1 quickly when you notice something isn't right (the Good Samaritan Drug Overdose Act provides immunity from simple possession charges for those who call 911 in the case of an overdose)
· Provide breaths (every 5 seconds until the person regains consciousness or help arrives)
· Get a naloxone kit