Delta/Surrey/Richmond -AUGUST 13 UPDATE – No More Lights !!! Now drivers have to get used to the NEW interchange where Highway 91 intersects with 72nd Avenue, just south of the Alex Fraser Bridge.
This is a t-style intersection and not a cloverleaf that some were hoping for, but this is far better than streaming down the highway, then having to stop and wait for a green light.
This project started in 2017 and still has a few more details to be added. When all is said and done, the $70M project should be finished in 2019.
The Alex Fraser Bridge Improvement Project includes:
Adding a seventh lane to the bridge
Adding an innovative new counter-flow moveable barrier system to improve capacity and help reduce traffic congestion during peak periods
Installing 13 new dynamic message signs throughout the Lower Mainland – as part of a South of Fraser Advance Traveller Information System – so that road users know estimated delays on the four major Fraser River crossings (Alex Fraser Bridge, George Massey Tunnel, Port Mann Bridge and Pattullo Bridge)
The original Bridge construction started in 1983 and was completed in September of 1986.
More than 119,000 vehicles use the Alex Fraser Bridge daily on average, with road users experiencing lines more than three kilometres long during rush hour.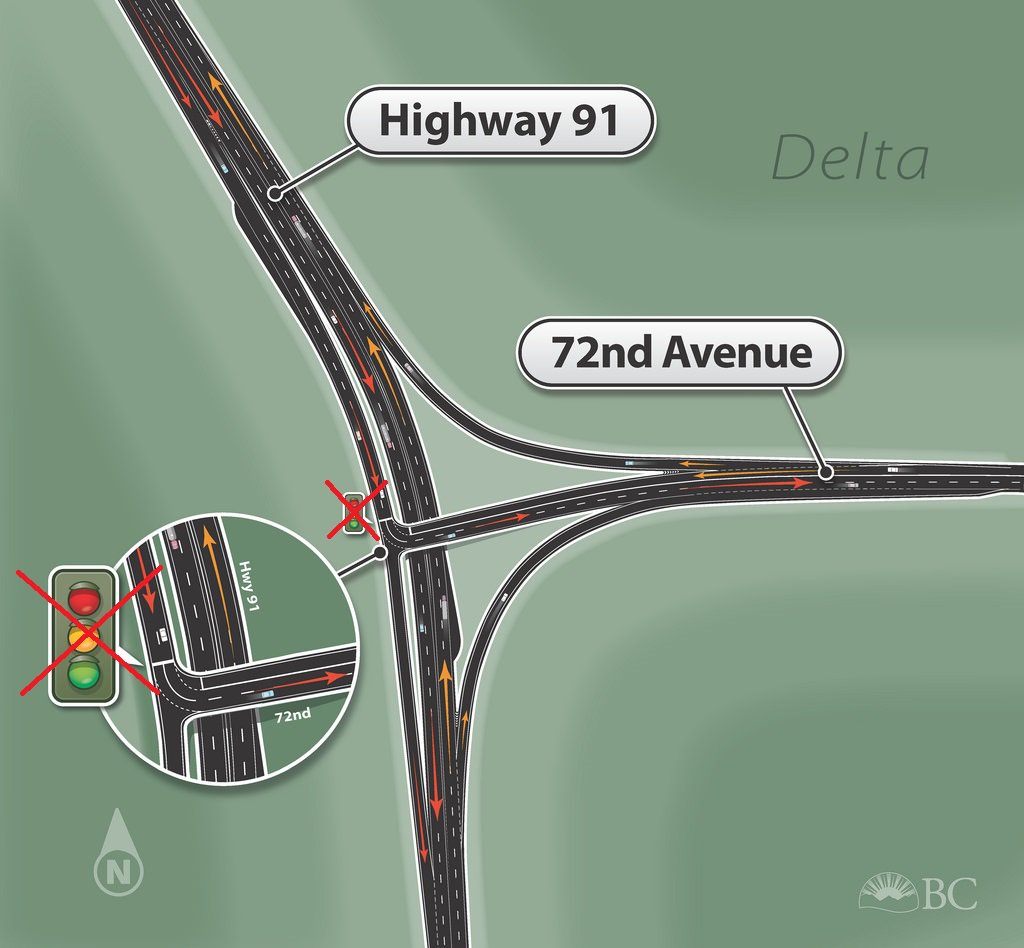 APRIL 20 ORIGINAL STORY – Motorists are advised that the northbound off-ramp from Highway 91 to 72nd Avenue will be closed from 9 p.m. on Friday, April 20, to approximately 5 a.m. on Wednesday, April 25, depending on the weather.
Signs will direct northbound drivers on Highway 91 to detour, either via the 64th Avenue interchange, or the Nordel Way interchange, then back to Highway 91 southbound with a left turn onto 72nd Avenue.
As part of the ongoing work on the Highway 91/72nd Avenue interchange project in Delta, the temporary closure is necessary while crews reconstruct and repave the off-ramp, and affects northbound traffic only. Drivers headed south may continue to turn left onto 72nd Avenue eastbound.
ORIGINAL STORY –
A new interchange at Highway 91 and 72 Avenue will remove the last remaining signalized intersection for through traffic on Highway 91, decreasing congestion and overall travel times along the corridor. This project is part of the strategy to address increased traffic demand on the corridor and over the Alex Fraser Bridge.
Traffic demand on the Highway 91 corridor – and over the Alex Fraser Bridge – continues to grow as development in Surrey and Delta increases. A strategy is being developed to reduce congestion in this area that will meet both short-term and long-term needs. Building an interchange at Highway 91 and 72 Avenue is an important part of this strategy as it will remove the last signalled intersection along the Highway 91 corridor, significantly easing congestion in the area.
Project cost:
$30 million ($20 million provincial, $10 million federal)