Chilliwack – The 146th edition of the Chilliwack Fair is coming August 10 to 12 and the prize books are now available.
Chilliwack's 30th Rodeo is part of the fun as well as, for one day only, a 35 foot zip line to ride down on August 12.
The Truck Races are back too!
Nicole Hill, the event co-coordinator for the Fair told FVN, that the list of fun events is now in place:
–          Laughing Logger: top skilled Lumberjack Entertainment Show twice daily
–          New and Sunday only: 35ft high, 200ft long zip line
–          Friday night: Britain's Got Talent's semi-finalist – magician: Matt Johnson – Urban Deception
–          Saturday: BD Diesel Dirt Drags returning for a second year; Donut Dash (8km and 4km race)
–          Enter your crafts, baking, hobbies and more! Prize books are available online and at local businesses!
–          Racing pigs
–          Tractor pull
–          Games Zone with lots of fun rides for the kids
–          Atchelitz Threshermen's Association Farm Museum
–          Barn buddies – come and see the young farm animals
–          4-H and Open Livestock shows
–          Rogers Foods Kitchen stage
–          Home & Garden demonstrations
–          Artists Corner: sculptures, pumpkin carver, jewelry makers, metal art, painting, origami and more!
–          Horse Show…bigger than ever!
–          Rodeo – performances daily – 30th year!
–          Main Stage music all weekend!
The Chilliwack Fair is bringing in The HIP Show, Saturday night after the Rodeo. This tribute to Gord Downie and the Tragically Hip has won fans across the country.  Get your tickets on online now through Facebook . You don't want to miss this!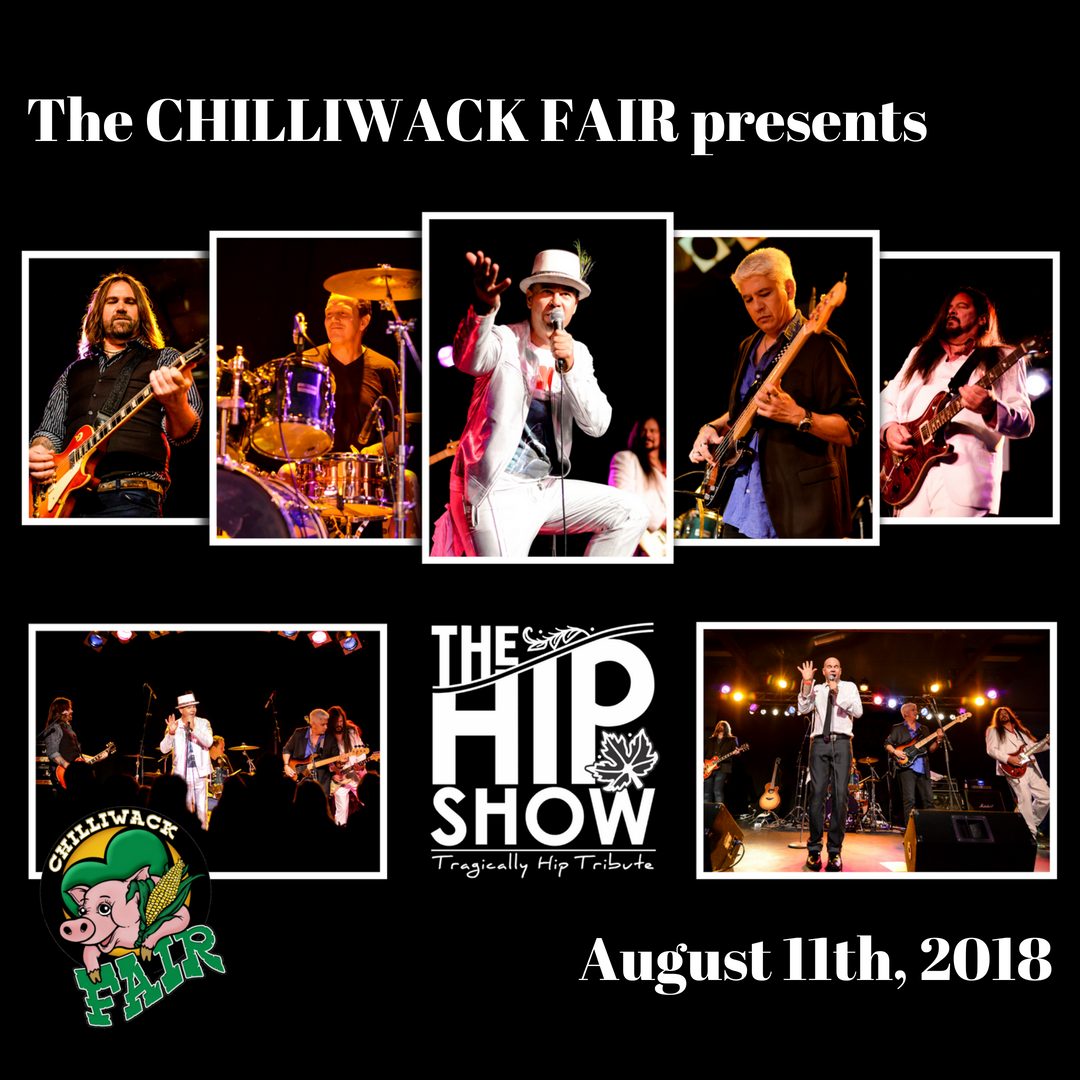 This is the 2017 Video of the Laughing Logger Show that will be part of the festivities.
The Fair's website and schedule can be found here.
 In 1873, the non-profit Chilliwack and District Agricultural Society incorporated and began producing the Chilliwack Exhibition and Fair. The Fair has run continuously since then and is the second-oldest fair in British Columbia.
A Community Event
The culture and heritage of Chilliwack is what makes our community strong and unique. The Fair is an opportunity to celebrate all that the community has to offer and despite being the foundation on which it was built, the Fair is about much more than agriculture.  We are proud to feature many local artists, organizations and businesses throughout the Fair.  Opportunities to participate in the Fair are countless, whether as a 4-H member showing a favourite animal, an entrant in the annual Fruit Pie Baking Contest, an event sponsor, or a volunteer in any of a number of different capacities during fair time.
The Many Partners
The Chilliwack Agricultural Society enjoys strong relationships with our long term partners and strives to develop new partnerships in the community. Some of our many partners have included the Atchelitz Threshermen's Association, the Chilliwack Rodeo Association, Chilliwack 4-H District, the Chilliwack Arts Council, Chilliwack Rotary, Chilliwack Kiwanis, the Chilliwack Schools Garden Program, the City of Chilliwack, Tourism Chilliwack, Heritage Park and the University of the Fraser Valley.