Surrey/Abbotsford – April is Dig Safe Month and the numbers don't lie. The number of natural gas line hits rising and British Columbia averages more than three natural gas line hits per day.
In 2017, there were more than 1,200 incidents of natural gas line damages from excavation in the province. Damaging a natural gas line can cause unsafe situations, traffic delays, service interruptions, and may require costly repairs. FortisBC responds to many natural gas line damages each year, of which more than 90 per cent are preventable.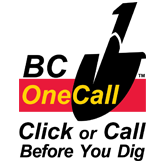 Damage by the numbers in 2017: 
60 per cent of natural gas line damages are related to work done by contractors
30 per cent are related to work done by homeowners
three per cent are related to municipal activity
the rest of natural gas line damage is caused by other utilities, motor vehicle accidents hitting gas meters or other events
FortisBC works closely with communities across the province to raise awareness around safe excavation practices. Over the past year, natural gas line damages in the community of Abbotsford have increased along with other communities where construction activity has been significant.
"The City of Abbotsford supports Dig Safe Month and the push by FortisBC to raise awareness across our community about BC One Call and safe digging practices," says Mayor Henry Braun. "Just one call can save unnecessary injury or worse. We want everyone in our community to stay safe so that they can return home to their family each and every day."
FortisBC seeks to recover costs associated with repairs from any person or organization that damages its underground utilities. Annual repair costs incurred can range between $1.5 to $2 million.
For more information about digging safely, visit fortisbc.com/digsafe or the BC Common Ground Alliance at commongroundbc.ca.