Surrey/Vancouver – Burnaby Mayor Derek Corrigan , the frontman for the Mayors' Council, announced the largest transit funding project in BC history and one of the largest in Canada.
The financial pain will be shared.
Phase Two of the 10-year transit plan is slated for completion in 2021. That means the Surrey LRT and the next phase of the Millenium Skytrain Line to UBC are both on track.
Metro Vancouver's share of the next phase is expected to be $2.5 billion of the total $7 billion, and the rest of the money is expected to come from the Victoria and Ottawa.
Note that this funding announcement comes before March 31, the end of the current fiscal year. For Victoria, let alone Ottawa, if there was money left in the budget, the money trees were shaken enough to get this Phase underway.
Bridge tolls will not be coming back, so that won't be a source of income, however, expect an increase in transit fares, parking fees and property taxes, as well as a fee for developers.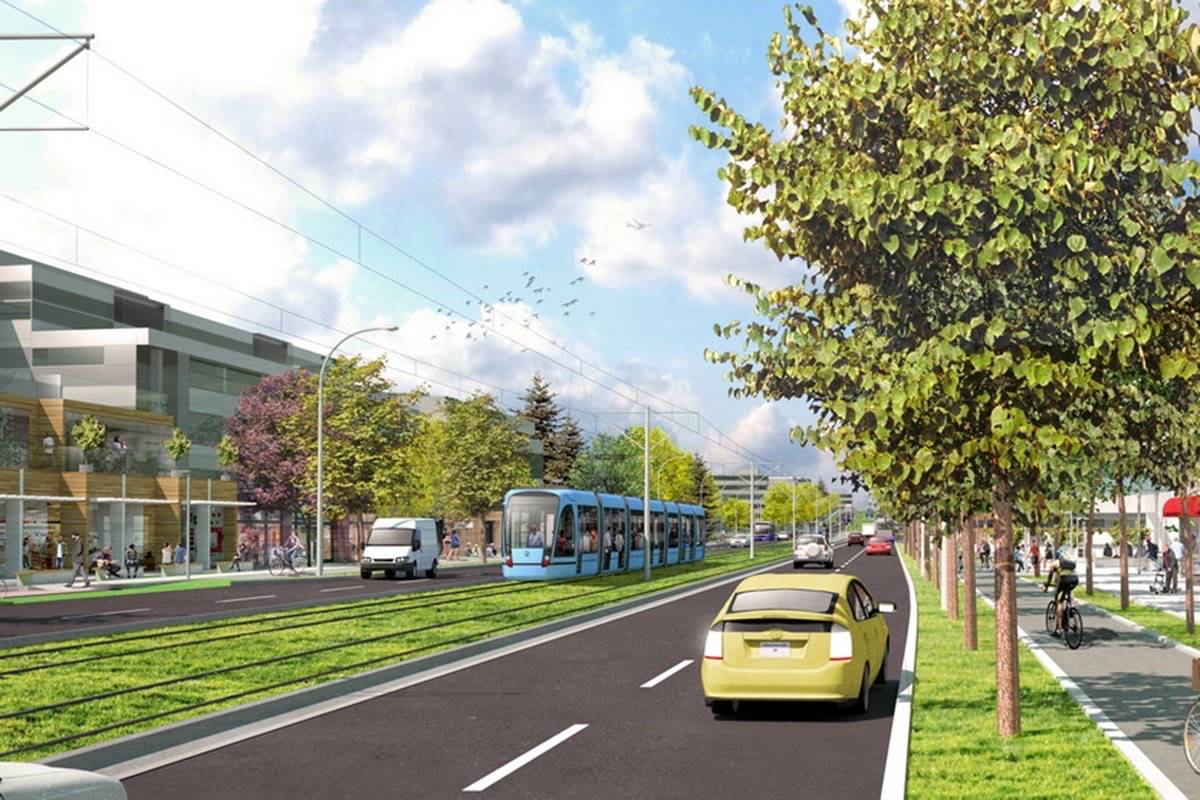 The Mayors' Council proposes the following in order to make planned projects as part of the next phase a reality:
$1.6 billion in fare revenues expected from higher ridership resulting from service expansion in Phase Two, TransLink resources and efficiencies.
A 2% increase to all transit fares over two years beginning in 2020. This amounts to a five to 15 cent increase to adult and concession transit fares and 1 to 3 dollar increase to adult and concession monthly passes to pay for more bus improvements.
15 cents per hour increase for an average $5 per hour parking. This is an increase from 21% to 24% to the existing parking lot rate. Legislative amendments would be required to enable TransLink to make this change.
$5.50 increase in property taxes per average household each year or about 46 cents a month, beginning in 2019.
About $300 to $600/unit increase to the Development Cost Charge on new residential developments depending on type of dwelling. Legislative changes are required to enable the Mayors Council to levy the DCC.
Revenue from a variety of transit-related commercial opportunities
The Surrey Board of Trade, as expected, is very pleased with Friday's announcement that the funding is now finalized.
The Surrey Board of Trade has, as part of its mandate, reviewed the proposed LRT project thoroughly. We have examined the alternatives and weighed up the costs and benefits of possible solutions. Without doubt, the light rail transit (LRT) is the best system, dollar for dollar, for Surrey and South of Fraser.
"Our rationale is that Surrey is the destination, not a thoroughfare to somewhere else," said CEO Anita Huberman. "Studies have shown, including the Surrey Board of Trade's most recent Surrey Road Survey, that over 70% of all car trips in Surrey, stay in Surrey. The demand for more transit increases annually, as Surrey is becomes the hub of the South Fraser Region."
The LRT, a system chosen overwhelmingly by over 400 forward thinking cities around the world and in Canada, is the system that will transform our city into a livable, walkable, movable, thriving hub of economic activity.
Today's announcement confirmed that 100% of Phase 2 of the Mayors Council plan will be implemented. At $7 billion, it will be Canada's most comprehensive infrastructure project providing up to 70,000 jobs. In Surrey, this means Expressions of Interest and Procurement proposals can begin immediately for the 'L' route (Guildford-City Centre-Newton) as well as pre-engineering work along the Fraser Highway.
"As the project moves forward, we will continue to work with Surrey's business community to ensure that they are prepared for the transition. We are planning four business-focussed workshops to go over the project plans in as much detail as possible, and work with impacted businesses on how they can continue to serve their clients over the next 2-3 years," said Huberman.
Surrey is growing rapidly, and as it grows, the opportunity exists to shape it into a world-class destination in its own right. With nearly 1,000 new residents coming monthly, the need for a vision has never been more necessary. The LRT provides an opportunity to manage growth, densify, move people, and create commercial space while achieving an attractive streetscape.
Surrey Fleetwood MP Ken Hardie told FVN "This is an historic investment, not just in Metro Vancouver's transit system but in the region's quality of life.  That's because the combination of federal, provincial and regional funding will improve mobility, reducing traffic congestion and easing the flow of commuters, trade, goods and services.  Our region has had many years of successful funding partnerships with the federal government because it has always had plans in place when federal dollars are available, which they are right now out of Ottawa's $25.3 billion national fund for transit infrastructure."
The David Suzuki Foundation chimed in with their approval.
"This political breakthrough sets the foundation to improve and modernize the region's transportation system and ease traffic," said David Suzuki Foundation science and policy director Ian Bruce. "Today's agreement wouldn't have happened without strong collaboration between the province and the Mayors' Council, and the incentive of the federal government's national transit infrastructure fund.  Everyone living in the Lower Mainland should appreciate that this investment means less time in traffic, and more time with doing things they enjoy with the people they care about."
The David Suzuki Foundation has been a vocal advocate for better transportation and strong leadership on climate change in Metro Vancouver for more than a decade, including the publication of the groundbreaking research paper, Breaking gridlock, on the dire transit deficit in 2016.  The B.C. government adopted several policy recommendations from the report within the last year.
"Our research has shown that since B.C.'s 2008 Provincial Transit Plan, the province has under-funded transit, while the Metro Vancouver population has only risen – leading to increased traffic, gridlock and rising carbon emissions," Bruce said. "It's a huge relief to know that the political gridlock – the key barrier to unlocking billions in federal funding to modernize our region's transportation system – has been solved."
Completion for the projects is expected to be done by 2021.