Abbotsford – Abbotsford Police Department Drug Enforcement Unit (DEU) executed two search warrants on March 8, 2018. Two people were arrested and cash, drugs and a firearm were seized.
The search warrants were executed at two residences in Abbotsford where an assault rifle, over $35,000, fentanyl, crack cocaine and other evidence consistent with drug trafficking was seized.
The search was linked to the Lower Mainland Gang Conflict.
Charges laid include weapons-related offences and possession for the purpose of trafficking ("PPT") in fentanyl and cocaine.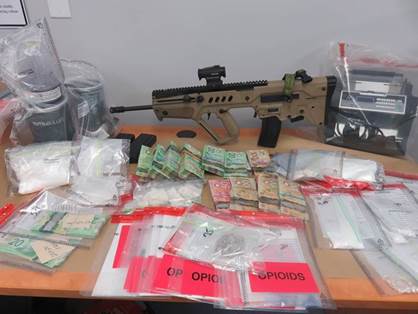 Two individuals were arrested during this investigation:
·         Kulvir SANDHU, 23 years old, has been remanded in custody.
·         A second male was released, with charges currently pending.
The APD has numerous drug use prevention resources on its website (http://www.abbypd.ca/illegal-drugs), including helpline numbers and links to information for both youth and parents. If you think your child or someone you know is at risk, or is involved in gangs or drug trafficking, help is available. Get in touch with the Abbotsford Police Department's Help Youth line at 604-864-4777, CFSEU-BC's Gang Intervention Team at 604-897-6023, or visit gangintervention@cfseu.bc.ca.