Abbotsford -JANUARY 23 UPDATE – Abbotsford City Council will have two open houses on the U-District plan to revitalize and update the area surrounding the UFV Campus and Abbotsford Centre.
Join in to help shape the future of the University campus and surrounding neighbourhood.
www.abbotsford.ca/plan200k www.udistrictabbotsford.com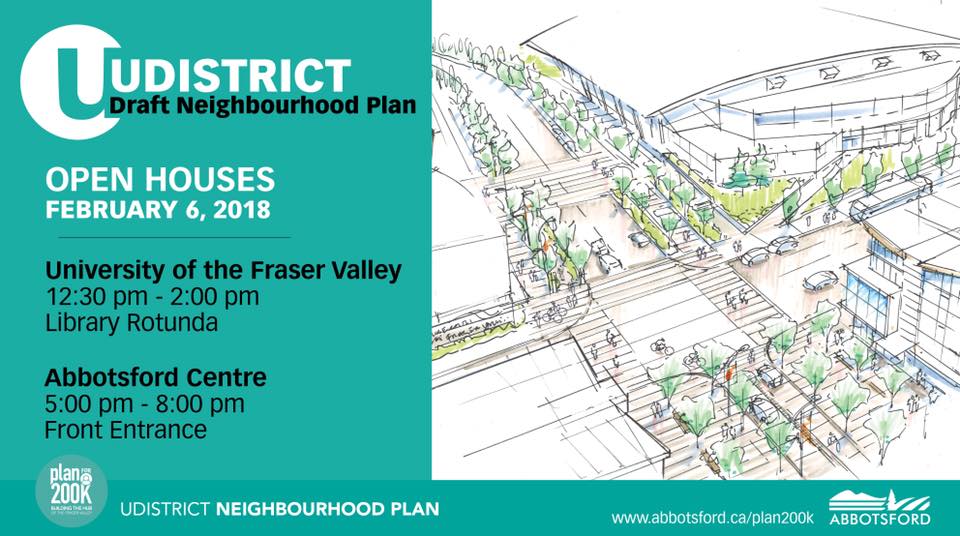 JANUARY 22 ORIGINAL STORY – Abbotsford Council will, on Monday receive a staff report on the U District Neighbourhood Plan.
This is nothing new. In fact the ball started rolling in 2009.
The project is an obvious tie-in with the 200K Plan, as the City charges ahead with a population in excess of 200,000.
The U District will be bumping up against the current UFV Abbotsford Campus and as you can see by the drawings below, includes Abbotsford Centre and the home of UFV Athletics, Envision Centre.
Take in consideration other major universities in cities of similar size to Abbotsford. Yes, these universities may have more money to play with, but the challenges are similar:
Ann Arbor, Michigan (U of Michigan) 114,000
Stanford, California (Stanford) 13,000
Gainesville, Florida (U of Florida) 131,000
Waterloo, Ontario (U of Waterloo) 104,000
Saskatoon, Saskatchewan (U of Saskatchewan) 246,000
From the City website:
The University of the Fraser Valley (UFV) and the City of Abbotsford are working together to develop the UDistrict Neighbourhood Plan and the UFV Campus Plan at the same time. The plans will help guide future development and growth of the UFV campus and the surrounding neighbourhood
The UDistrict Neighbourhood Plan will outline the proposed land uses, densities, built form guidelines, public spaces, multi-modal transportation network, and servicing / green infrastructure strategies.
The 2009 UFV Abbotsford Campus Master Plan, which directs the development of the Abbotsford campus, will be updated at the same time to ensure that both plans work together to further enhance this neighbourhood. There will be opportunities for public consultation throughout the project.
In 2011-2012, City of Abbotsford residents, students, faculty, and many others came together to imagine what the University of the Fraser Valley (UFV) Abbotsford campus and the surrounding neighbourhood would become in the next 30 years. This vision saw UFV continuing to grow and expand a campus that is integrated with the neighbourhood. The surrounding area is envisioned to become a mixed-use, vibrant community that is walkable with numerous amenities. The City of Abbotsford is working together with UFV on a planning process to achieve this vision: the UDistrict Neighbourhood Plan.