Fraser Valley – Before chicken little starts to gallivant around, note that Environment Canada is stressing that the potential of 3-5 cms of snow could hit the Fraser Valley. That all depends on a lot of factors including elevation.
445PM Thursday
Posted by Don Lehn on Thursday, November 2, 2017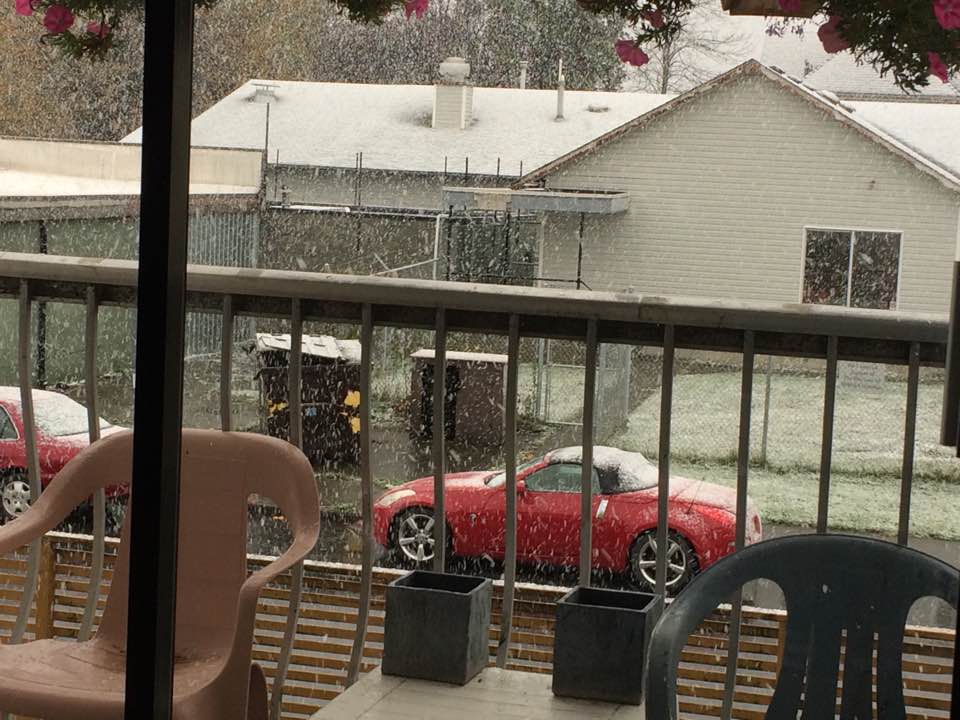 Also take into account that this front has the potential of moving through quickly or stalling, and the latest from Environment Canada suggests that won't be an extended front.
And remember, it is November, so we should have already got into the mindset that the flakes are coming.
4:11 PM PDT Thursday 02 November 2017
Special weather statement in effect for:
Fraser Valley – central including Chilliwack
Fraser Valley – east including Hope
Fraser Valley – west including Abbotsford
An arctic front over the BC south coast and a low pressure system over Vancouver Island are producing strong gusty outflow winds through mainland valleys and inlets. A wind warning is in effect for Howe Sound near Bowen Island with northeast winds near 70 km/h gusting to 90 expected until Friday morning.
The cold air from the arctic front in combination with the moist air from the low pressure system is spreading moderate to heavy precipitation over the south coast. About 15 cm of snow has fallen today in Whistler. Snowfall has eased to a few flurries in the region and snowfall warning has been ended.
Rain has changed over to wet snow over much of East Vancouver Island and in some locations 2 to 5 cm has accumulated since this morning. Mixed rain and snow will continue through this evening over the region. Over the higher terrain areas of southern Vancouver Island several centimeters of snow can be expected tonight.
Cooler air has reached the Lower Mainland. Rain has changed to wet snow in the eastern Fraser Valley near Hope. The snow is expected to continue through tonight with up to 2 to 5 cm of accumulations possible.
For the rest of the Fraser Valley, rain mixed with wet snow will continue tonight with 2 to 4 cm of snow possible.
Mixed rain and snow has been reported in several locations around the Lower Mainland and will continue this evening. A few centimeters of snow accumulation are possible tonight, mainly over higher elevations.
By early Friday morning mixed precipitation is still possible, even down to sea level, with trace accumulations as the airmass begins to dry out. Conditions will remain cool for the weekend.