Chilliwack –
"Oh my goodness!" marvels Chilliwack Symphony Orchestra music director Paula DeWit as she enthusiastically relates details of their upcoming performance. "This concert is going to be so much fun!" The Chilliwack Symphony Orchestra presents A SUPER SPRING CONCERT on
Saturday May 27
at their new venue, First Ave (46510 First Ave.) in Chilliwack.
Dancers from the Fraser Valley Academy of Dance with the Chilliwack Symphony Orchestra will open the concert with two selections from Aaron Copland's Ballet, Rodeo. "They will perform
Saturday
Night Waltz and Hoe-Down. Their dances depict intricate stories with fascinating plots which are delightfully portrayed by both the young dancers and the orchestration," notes Paula DeWit.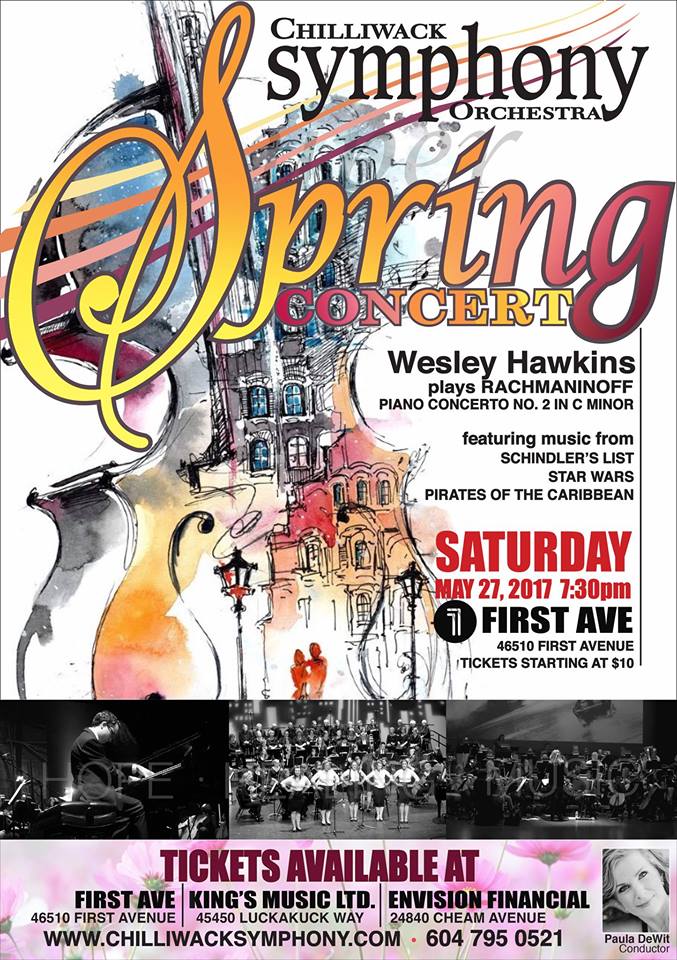 The orchestra will be playing several popular selections from music written for the movies The Pirates of the Caribbean, Star Wars and Schindler's List. Also, the well known favourite, the Olympic Fanfare and Theme is on the evening's performance list. "This is shaping up to be a high-energy concert and the repertoire is entirely appropriate for audiences of all ages and musical tastes," remarks Ms. DeWit.
The Chilliwack music duo, Portraits of Us, Anna and Jason Ratzlaff will make a guest appearance. This young couple are gifted, experienced solo performers who are building a reputation for themselves with beautifully balanced vocal and instrumental arrangements. They are of a comparable genre to The Civil Wars, The Staves, and Noah Gunderson, and are currently working on an eight song album that is due for release in coming months.
"The biggest treat of the entire performance is our very own Chilliwack Idol, Wesley Hawkins," promises Ms. DeWit. "He will be ripping up the keyboard with Rachmaninoff's Piano Concerto no.2 in C minor…You will surely recognize the music. This piece has come to be regarded by many as one of the most romantic ever written and was the theme music in the 1945 film classic Brief Encounter. Sergei Rachmaninoff, a talented composer, conductor and pianist, dedicated this concerto to his psychotherapist to whom he credited a cure from the depths of his severe depression.
Written at the beginning of the 20th century, it is now one of the greatest masterpieces of all time in piano repertoire. Its enduring charm continues to enchant music lovers the world over."
Not to be missed, the variety packed evening guaranteed to entertain absolutely everyone, kicks off at
7:30 p.m.
on
May 27
. And remember, the concert happens at the new CSO venue — First Ave. (46510 First Ave).
Admission starts at $10, and tickets can be purchased online at
www.chilliwacksymphony.com
; by phone at
604-795-0521
; or at any of three tickets outlets: Envision Credit Union on Cheam Ave, King's Music in Sardis, or the concert venue 46510 First Ave.
Professional orchestra right here, bringing awareness and appreciation for music of the highest calibre.
Chilliwack Symphony Orchestra, Hope-Healing-Music.